Hundreds of physicians and other medical professionals in the Abortion Pill Rescue® Network aid women who experience regret after starting the chemical abortion process. And each provider has their own story for how they came to help women in this critical situation have a second chance at life for their child.
Chemical abortion
According to a recent report from the Charlotte Lozier Institute (CLI), a "surge" in chemical abortions is contributing to a rise in abortion rates. 
Chemical abortion is a two-pill process. The first chemical, mifepristone (or RU-486) is the first pill used in a chemical abortion and blocks the effects of progesterone, a hormone necessary for a pregnancy to thrive. The second part, misoprostol, expels the baby. 
However, some moms take that first chemical abortion pill and then regret doing it—which is why the Abortion Pill Rescue Network (APRN), managed by Heartbeat International, plays such a critical role. 
Available 24/7 through the network for moms who experience such regret, the abortion pill reversal (apr) protocol offers hope that the chemical abortion process may be reversed if initiated within a specific timeframe. 
When one of these women connects with Heartbeat's Option Line, consultants assist women with immediate needs before referring them to the nearest one of more than 700 Abortion Pill Rescue (APR) providers worldwide in the APRN. 
[Click here to subscribe to Pregnancy Help News!]
One of those providers is Karen D. Poehailos, MD, who has been working with the APRN since 2015. She has successfully helped a number of moms and their babies—including her very first reversal baby, who recently turned five years old. 
In celebration of this milestone, I spoke with Poehailos to learn more about her background, her journey to the pregnancy help community, her experiences as an APRN provider, and the impact this has had upon her life.
Dr. Poehailos 
Poehailos is a board-certified family physician and the Regional Medical Director for ThriVe Central VA Women's HealthCare, a group of four women's health care centers with locations in Charlottesville, Albemarle, Culpeper and Orange, Virginia. She is also a family physician part-time at WellFamily Medicine in Charlottesville. 
Her responsibilities with ThriVe Central Virginia include oversight of the paid and volunteer medical personnel—as well as providing and coordinating limited obstetrical ultrasound, medical visits, and testing and treatment for sexually transmitted infections (STIs) and sexually transmitted diseases (STDs). 
Poehailos is a graduate of the University of Virginia School of Medicine and its Family Medicine Residency. She has worked in primary care and urgent care settings, and has taken additional training in Natural Family Planning and is a Certified FertilityCare Medical Consultant, working with women on issues like recurrent miscarriage, infertility and irregular cycles without use of IVF or hormonal contraception.  
She's been a practitioner for the APRN since 2015 and a member of the Heartbeat International Medical Advisory Council and the Heartbeat International Abortion Pill Reversal (APR) Advisory Team since 2019. 
A native of Baltimore, Poehailos now makes her home in Charlottesville, Virginia–where she embraced the challenge of raising four sons through Scouts, sports and band carpools while still maintaining a medical practice and volunteer life at her church.
"The moment for which you've been created" - Journey to the pregnancy help community 
For many years, Poehailos worked off and on as a volunteer for ThriVe Central Virginia. However, in early 2018 she moved into part-time employment, then became a full-time physician there in June of 2018—which she says is an unusual arrangement for pregnancy resource centers, since medical directors are usually volunteers or part-time employees. 
Acknowledging the "significant step forward in faith" it took for the centers to commit to offering her a full-time role, she says that although she was excited, she was also nervous about leaving the employer she'd been with for 20 years. 
"I felt like I was leaving my security blanket," she said. "It was a step of faith to leave that job, because I love family medicine and I love doing urgent care, but I just kind of felt the nudge from God."
However, in the midst of the transition, she learned that her former employer had decided to close his doors—which meant she would've suddenly been out of a job if she'd stayed. 
"So, God definitely took care of me," she said. 
In this context, Poehailos says she can clearly see how God has used a variety of seemingly disparate skills and circumstances to guide her to her current role.  
Noting that the four centers now offer STI testing and treatment, she said, "Before I went to medical school, I was a medical technologist and did hospital lab work. The fact that I already had a good lab background helped us get that off the ground. And I'm actually comfortable drawing blood because I worked in a blood bank for a while." 
She says another much-needed skill she's developed in recent years is the ability to perform her own ultrasounds. 
"I did training in limited OB ultrasounds so I can conduct the scans myself, in addition to reading them," Poehailos said.
Citing Esther 4:14 as one of her favorite verses, she said, "You know, this is the moment for which you've been created. I mean, why was I a med tech before I decided to go to medical school? Well, it finally became clear much later."
Poehailos says her journey to becoming an APRN provider started with a natural family planning meeting in Milwaukee in 2010. It was during lunch with two other physicians that she first heard about the use of progesterone after a woman took the first dose of the abortion pill to try to reverse the abortion. 
"I thought, 'Wow, that sounds really interesting,'" she said. "But I didn't have that much familiarity with working with progesterone and I kind of filed the information away in my head." 
It was a year or so later, Poehailos said, when she took the FertilityCare medical consultant course at the Saint Paul VI Institute in Omaha, and, "one of the primary tools in our toolbox was to use progesterone for women with threatened miscarriage and women with certain cycle irregularities. Once I took that course and got comfortable with progesterone, I knew I was ready to join the APRN hotline as a provider." 
Experiences as an APRN Provider
When she first got involved, the APRN was operated by Dr. George Delgado through Culture of Life Family Services in San Diego. The APRN's operations transitioned to Heartbeat International in 2018. 
Poehailos vividly remembers the first call she received in February of 2015. She was with one of her sons, visiting a university campus and walkway over Interstate 81 on a pedestrian bridge. 
"My phone vibrates in my pocket and I pull it out and there's a text that says, 'Hi, this is the hotline. We might have a patient for you,'" she recalled. 
After telling her son to go to the next lecture without her, she found a spot in the lobby of a building and talked to the hotline nurse, then called the patient. When they returned to Charlottesville later that afternoon, Poehailos said, "I met her at the office, and we started the protocol."
That first patient was also her first successful reversal; the healthy little girl who recently turned five. 
Over time, her experiences have taught her how to prepare women regarding what to expect once the reversal process has started—which is an important part of helping them cope with everything that's going on in their lives. 
"We have to remember that whatever circumstances led the woman to start the medical abortion—her social situation or whatever was an influencing factor in her decision—doesn't magically go away when she attempts to rescue that abortion attempt," said Poehailos. "So whatever else was stressing her with her family or her boyfriend or whatever is going on, we have to always remember when we're in contact with these women afterwards, that those things didn't magically disappear." 
"They are going to need more support than the average woman who may be threatening a miscarriage for another reason," she added. 
As far as follow-up, she says she tries to stay in contact with women until they can receive care from a local obstetrician.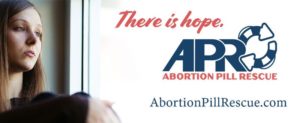 "Our mission is to get them turned over to local OB care," Poehailos explained. "I always tell them when I'm seeing them for the ultrasound that they need to get established with an OB physician and I'll be happy to share any needed information."  
Being an APRN provider – The personal impact
Poehailos says being an APRN provider has had a big impact on her—especially when she gets good news about how the moms and children have been thriving since her first contact with them. 
"One reached out to text me a couple of years ago on Mother's Day and said, 'Happy Mother's Day to you. And thank you. Here's a picture of my baby,'" said Poehailos. "It just makes you want to cry." 
She also recalled how five years ago when the first baby she helped was about to enter the world, the mom asked her to come to the hospital to meet the baby after she was born. 
"She wasn't that far from away from us," Poehailos said, "so I was able to go to the hospital at her request, the day of the delivery to see the baby. The mom took a picture of me holding the baby the day she was born. That's a picture for forever." 
More providers needed as the APRN continues to meet women's needs
Poehailos says one of the challenges with APR is the critical timing that's required—since the woman needs to be seen right away to start the protocol. Fortunately, the APRN providers help each other out, she said, providing creative support to meet patient needs. 
"There's nice collaboration between the providers on the network," Poehailos said. "One way or another, we've always managed to get it done." 
Referring to the APRN as "the emergency room for pregnancy resource clinics," Poehailos said, "We're like the code team in a hospital. You have to get there now."
"Other times, when women come in and they're still considering all their options, it's not as urgent," she said. "But with APR there's much more urgency since the process has already been started and we have to stop it. Somebody needs to be there pretty fast to get the ball rolling. We all pitch in to make sure that happens." 
Tweet This: With Abortion Pill Rescue® there's urgency as the process has been started & we have to stop it. We all pitch in to make sure that happens.
In terms of ongoing needs, Poehailos says she wants to spread the word about the APRN—especially to other providers who may want to become part of something that makes such a difference. 
There's a great need for more local providers, she says, so women who are already in crisis won't be required to travel long distances to access the urgent care that's required. 
"We have a lot of providers in the network, but we're not evenly distributed geographically," Poehailos said. 
And even if there's an APRN provider already in a specific area, Poehailos said it would be a big help to have more than one, so they could back each other up to meet local needs. 
"If one provider isn't available when a woman needs their services, it would be awesome to have another provider in that same city," said Poehailos, "instead of making the woman drive several hours to receive care." 
Poehailos says she's been grateful for the increased resources that became available when the Heartbeat International assumed oversight of the APRN. 
"The people who started APR did an amazing job to get the ball rolling," said Poehailos. "I'm grateful Heartbeat International was able to step in and put the strength of their network and Option Line behind the network, because we really needed that to have the increased reach." 
If you are a woman in need of Abortion Pill Rescue care, representatives are available 24/7 through Option Line to speak with you. Click HERE, call 1-800-712-4357 or text "HELPLINE" to 313131.
If you are a healthcare provider interested in becoming part of the APRN, you can learn more by visiting the Abortion Pill Rescue Network page. 
Editor's note: Heartbeat International manages the Abortion Pill Rescue Network, Option Line and pregnancy Help News.