An opportunity for authors who serve in pregnancy help to showcase their written work before more than 1,000 of their peers came to fruition at the 2022 Heartbeat International Pregnancy Help Conference.
"This is a chance for authors to meet other authors, to have exposure to our attendees, sign books, and to cheer each other on as authors, readers and the pregnancy help community at large," said Betty McDowell, vice president of Ministry Services for Heartbeat. "We were excited to see this happen"
"Like all parts of the Conference - we have dreams and ideas," she said, "and it is so fulfilling to see them become a reality."
[Click here to subscribe to Pregnancy Help News!]

The idea for Writers Row began to form more than two years ago during a conversation between McDowell and Heartbeat President Jor-El Godsey. The two discussed how there are many people in the pregnancy help movement who have become authors. 
"Telling their own stories about why and how they came to their pro-life convictions, healing from past abortions, pro-life apologetics, equipping people to serve or capturing history," McDowell said. "There is so much to glean from each other. It seemed logical for Heartbeat to support these efforts."
Godsey agreed.
"The pregnancy help movement has inspired many of its own to become authors on many aspects of the work ranging from abortion recovery to leadership principles," he said. "That's because pregnancy help leaders are learners. Eventually some get, or make, the time to capture their learning in book form. We're grateful to carve out a place for writers within our movement to share their books."

On two days of the Pregnancy Help Conference for a three-hour period, two sets of 12 writers who were registered to attend exhibited one work that pertains to the cause of pregnancy help they have published.
"With the record-breaking crowd we realized space would be limited," said McDowell. We had more authors apply than we had space for."

The first Writers Row was originally planned for the 2020 Seattle Conference, but that event had to convert to virtual. Then the 2021 Conference was still limited for in-person group size, so it was once again shelved.
Writers taking part in the inaugural Writers Row were pleased with the event.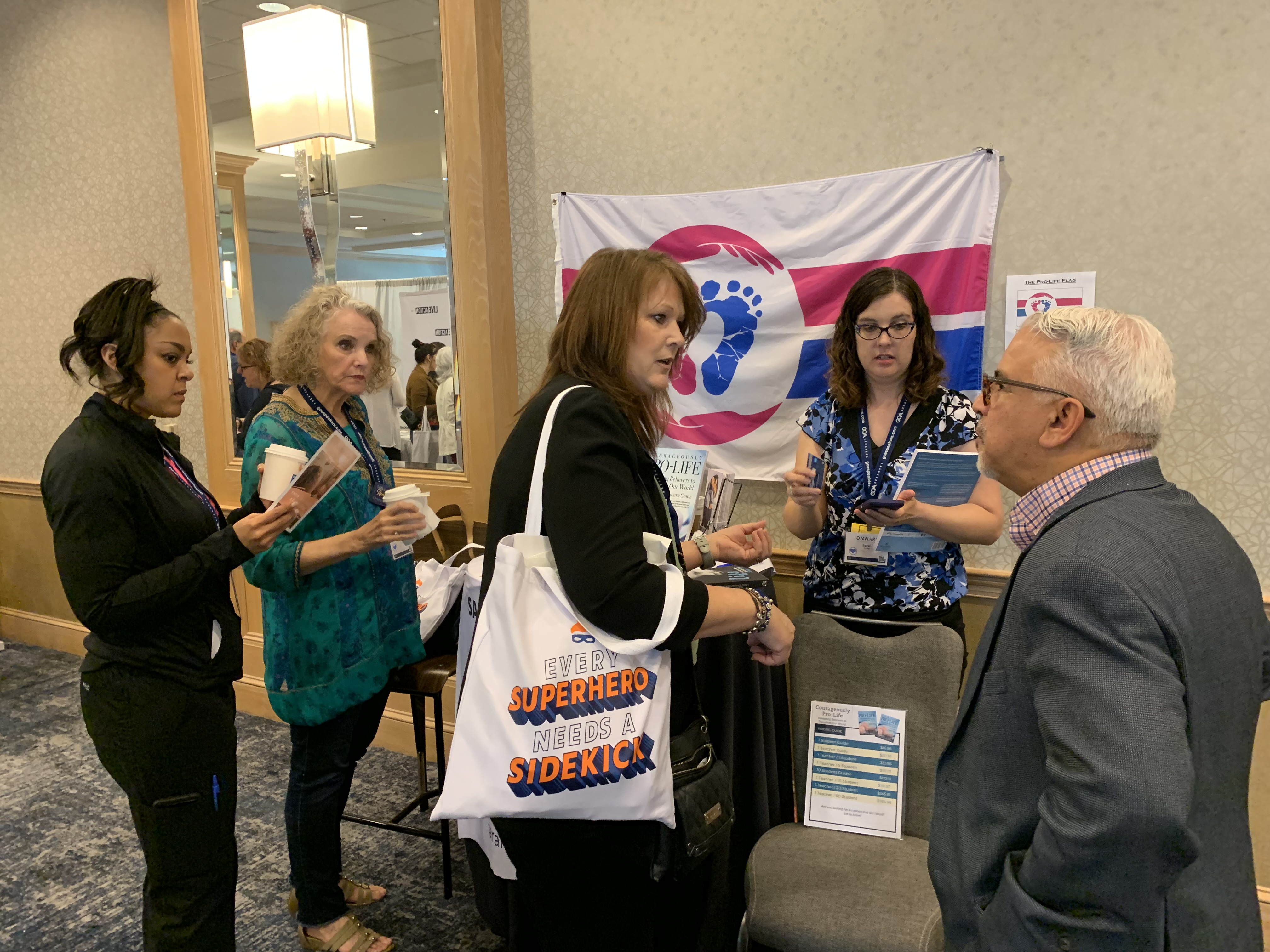 "Writer's row was a fantastic experience," said Sarah Bowen, executive director of Promise of Life Network, with locations in Slippery Rock, New Castle, Butler, and Sandy Lake, Pa. "I sold more than half of the books I brought in a few hours and met so many amazing people."
Bowen exhibited her book Courageously Pro-Life.

"I think it's exciting," said Sarah Dunford, of Choices Women's Center in Fredericksburg, Va. 
Her book was Parenthood Unplanned.
"I'm not a good marketer," Dunford said. "I'm here to help people who are wounded and injured. So, to be able to have people walking by, and be with like-minded people, was great."

Pro-life speaker, trainer, and author Mike Spencer was pleased with how Writers Row went.
"It's gone well," he told Pregnancy Help News. "I've sold some books."
Spencer exhibited his book Humanly Speaking, he also presented at Heartbeat's Conference.
Coming to the Conference is always worthwhile, he said, always opening up opportunities.
"The interaction has been good," Spencer said. "I'm real pleased."
Tweet This: Coming to the Heartbeat International's Annual Conference is always worthwhile, it always opening up opportunities.
Heartbeat International's 2022 Annual Pregnancy Help Conference ran from Mar. 30- Apr. 1 in Jacksonville, Fl.