Three courageous moms who chose life amid challenging circumstances will tell their stories on Capitol Hill this coming week.
Pregnancy help made the difference between life and abortion for Danielle, Kylie, and Evalynn, and these moms and their children will meet with Congressional staffers Jan. 19 for Babies Go to Congress. 
The pro-life educational initiative is a project of Heartbeat International, the largest network of pregnancy help in the U.S. and globally.
Heartbeat has hosted more than 180 moms and babies to Washington D.C. for nearly 400 Congressional office visits since 2009. Each of the mothers and their babies is living proof that pregnancy centers are good for America, a message that the moms telling their stories effectively conveys to the lawmakers.
[Click here to subscribe to Pregnancy Help News!]
The moms
Evalynn was born to a crack-addicted and alcoholic mother, and later removed from her mother's custody when she was only 10. 
Evalynn had her first abortion when she was 19 and at 24 she had her second abortion from which she almost dies and that led to her having an emergency D&C three days later. 
She then became pregnant out of wedlock again. 
"I was already a single mother of a 3-year-old, and I was attempting to finish my bachelor's degree," Evalynn said. "I had no idea how I was going to support myself, two children, and finish college."
The father of her baby was urging her to have an abortion and with no one else to support her, Evalynn felt alone. Unsure of whether she would choose abortion or choose life for her baby, she reached out to the Women's Center for an ultrasound.
This ultrasound changed Evalynn's life because it brough home the humanity of her unborn child and it empowered her to choose life.
Today, her son Hezekiah is one year old, Evalynn has earned her bachelor's degree shortly after she got married.
"In this age, the world tells women that to be happy and to have a successful life we must abort our unborn babies," she said. "That is the furthest thing from the truth! I have never lived a life that is so fulfilled physically, mentally, and spiritually. God used this baby's life to save mine and I am forever grateful!"
Danielle was terrified when she found herself looking at positive pregnancy test at 20 years old. Danielle was wrapped up in a world of drugs, alcohol, and risky behavior which she had used to numb the pain of she was experiencing from years of abuse and assault. 
"I knew that I was carrying life - that it wasn't just me anymore," Danielle said, "but I had no money, and my family refused to support me."
But then she found a local maternity home, the Paul Stefan Foundation. There she was welcomed with open arms and spent the next five years learning crucial life skills and getting the education she needed to get a good job for herself and her little girl.
Those years were the "hardest of my entire life, but they transformed me and my future in an incredible way," Danielle said. 
She has remained involved with the maternity home ever since, and today she serves her community as a foster care social worker in her state's Department of Social Services.
"So many women resort to abortion because they think it's their only option, or that their baby will hinder their goals, said Danielle. "I wish I could comfort those women and tell them how keeping my baby motivated me to achieve every single goal that I set my mind on."
"I'd tell them that I named my daughter Lei'Lani, which means royal child of heaven," she said. "Why? I tell anyone who will listen – God sent her to me to save my life."
Kylie* was the mother of two and had just begun a new relationship when she found out that she was pregnant. She felt that she was not ready to be a mom again, and while her boyfriend was excited to be a dad, Kylie decided to have an abortion.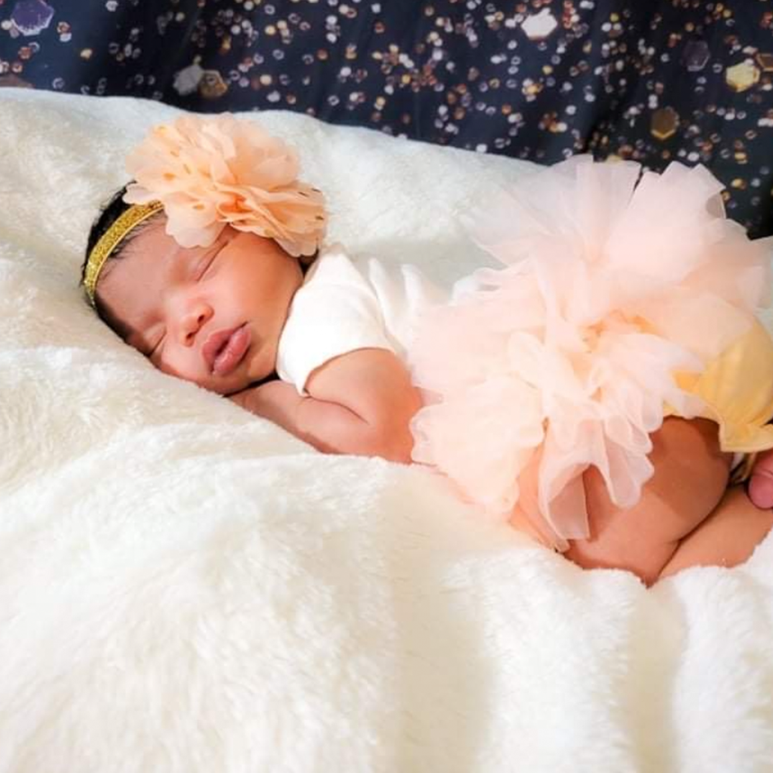 She quickly regretted this decision, especially as she and her boyfriend struggled to get pregnant again in the following years. Kylie was then thrilled to learn she was pregnant in the summer of 2019 with a baby boy.
Then, when her son was seven months old, she found out that she was pregnant again, this time with twins. 
Kylie felt overwhelmed and that she could not go through with the pregnancy because her boyfriend was frequently out of town. The financial strain of raising five children on her own was too much for her to face.
Kylie reached out to Real Options hoping for some answers. She was still undecided about getting an abortion, but after discussing the many resources that were available with the pregnancy help organization, she realized she had all the support she needed.
Sadly, one of Kylie's twins passed away before birth. Real Options was there for Kylie at that time as well, confirming for Kylie that she was not alone. They provided her with counseling services and a baby shower. They gave her the support that she needed and became family for her.
"Now that my boyfriend is temporarily away, I still don't feel alone," she said. "I know I have my family at Real Options, and they are only one call away."
"If I didn't come to Real Options, I would not have chosen life for my daughter Zoe," Kylie added. "For that, we are forever grateful!"
Tweet This: Three courageous moms who chose life amid challenging circumstances will tell their stories of pregnancy help on Capitol Hill this next week

These moms' stories can be found HERE. More stories from moms like these are available HERE. Click HERE for previous Babies Go to Congress coverage. 
Pregnancy Help News will provide additional coverage of these brave moms and their visits with Congressional lawmakers to share their life-affirming stories of pregnancy help.
Editor's note: Heartbeat International manages Pregnancy Help News. *Kylie's name has been changed to preserve anonymity.