Clarity Solutions, located in Elizabethtown, Kentucky, celebrates 20 years of service this year, and amid that milestone, the staff and board of the pregnancy help medical clinic plan to open a maternity home in early 2022.
Laura Dickinson, executive director of Clarity Solutions, said she and her staff became "burdened" upon realizing how many women their organization serves who experience housing instability.
"About six or seven clients a month coming through our medical clinic were saying they were homeless," she said.
From humble beginnings to 3-building campus
When Clarity Solutions for Women opened in 2001, the primary goal was to equip women with materials needed for pregnancy (the 'for Women' was dropped from the name upon hiring a fulltime fatherhood director and implementing a fatherhood program). Now, with a medical clinic providing pregnancy tests, ultrasounds, and options education, along with a client services building for classes, including the fatherhood program, Clarity Solutions has added a third building to its campus – a "God-sized dream" of a maternity home, Dickinson said.
"We are so blessed!" she said.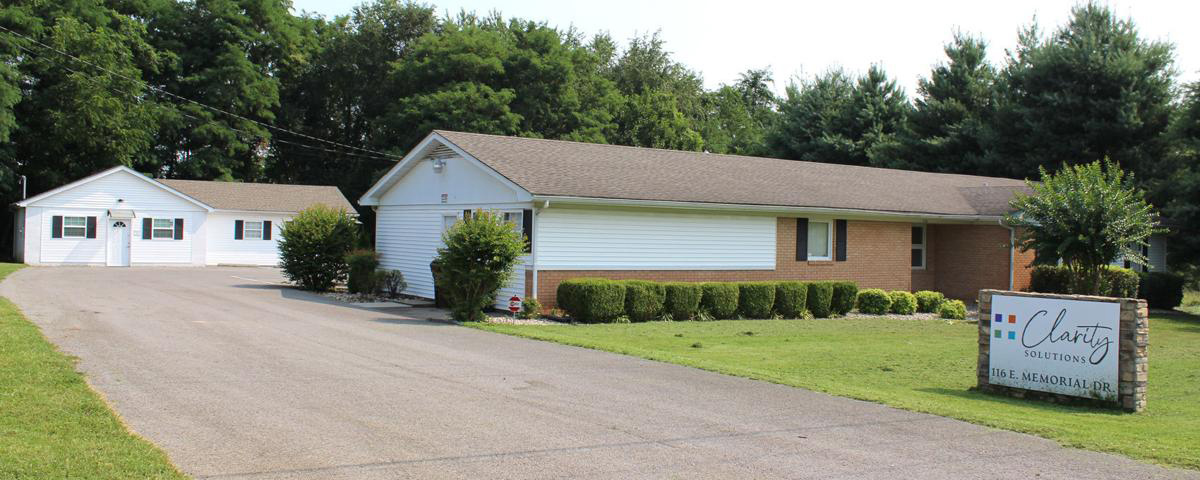 [Click here to subscribe to Pregnancy Help News!]
Upon recognizing the incredible need for housing two years ago, Dickinson began seeking ways Clarity might meet that need. The organization operated a satellite facility in the community of Radcliff, about 20 minutes from Elizabethtown, with a downstairs level used by an abortion recovery Bible study group. However, the space was occupied less than 20 weeks a year. Dickinson said she began to pray about how to better utilize the space.
"It was a stewardship issue," she said.
Looking at location options
An idea came to her to create temporary housing for the women Clarity Solutions helped through the pregnancy center. The area has few housing options, Dickinson said, especially for pregnant women, including no homeless shelter. The closest maternity home is in Louisville, about an hour's drive away.
She approached her board with her idea of using the downstairs of the Radcliff office. Although the board understood her concern, she said, there was concern over what would be "a lot of work" for just a few weeks' stay, and the board felt that Clarity should continue referring women to the Louisville home and paying for a short stay at a local motel until they women could get to Louisville, as had been the policy.
However, the idea of utilizing a local property long-term continued to nudge Dickinson. 
"Clarity always tries to do things with excellence," she said.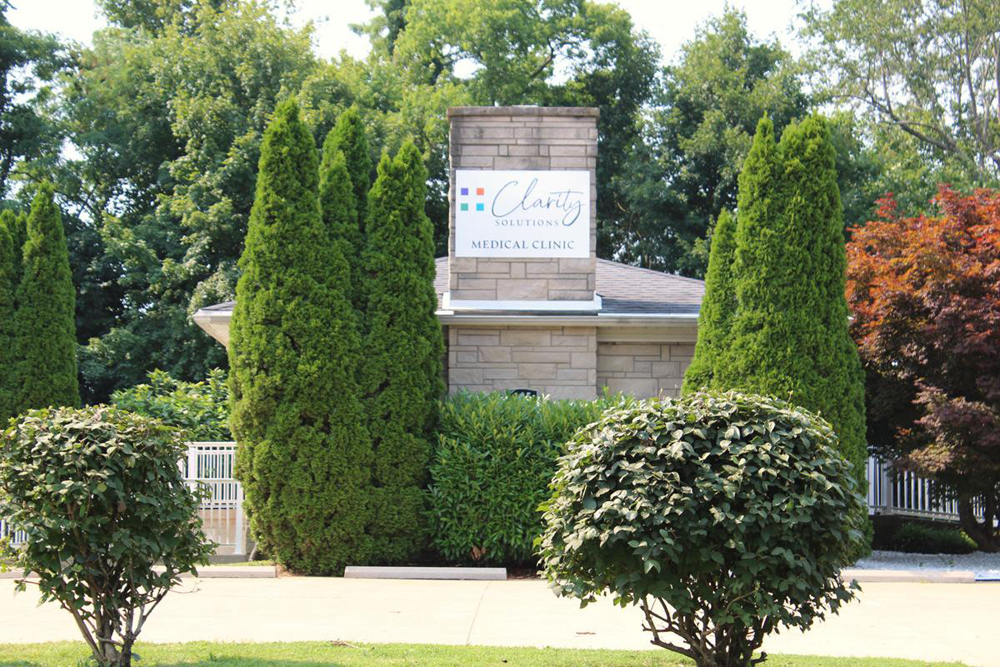 Not long after, a building next door became available after the tenants moved their business across the street. 
"It sat for about a year," Dickinson said.
She began prayer walking around the property. She also learned the realtor for that building was the same person who "gifted" Clarity with the building that is now the organization's medical clinic in 2013. Dickinson said she asked God to give her "a personal passion" for maternity housing if that was the direction He "really wanted" the organization to go.
"Intellectually, I knew it was a good idea," Dickinson said, "but I wanted a personal passion to drive it." 
At about the same time, she and her husband were planning an adoption. They learned the birth parents "struggled with housing instability," Dickinson said.
"The birth mom struggled with the very same thing I see our clients struggling with," she said.
God provided an answer to her request.
Birth of The Haven
Thanks to community support, including a large grant from Southeastern Christian Church, the vision has become reality. The building that once was for sale is now part of Clarity's campus. Renovations are underway, a case manager has been hired, and the maternity home is on track to open early next year.
"The Lord's hand has just been in every step of the way. God has just confirmed time and again this was the right move," Dickinson said.

Christened The Haven, this soon-to-open shelter for pregnant women is named for a child that almost wasn't born. 
Many years ago, an abortion-minded woman came to Clarity. She was referred to and went to the maternity home in Louisville, Dickinson said. That woman went from seriously considering abortion to carrying her baby to term; she named the child Haven. 
Not only is the new maternity home named in honor of that baby, but it also reflects scenes painted in Psalm 107:28 to 30, which, Dickinson said, is "picture after picture of people in need crying out to the Lord" and God providing a haven for them.
"That's a Biblical picture of what we hope The Haven will do for our girls," she said.
The importance of stable housing and maternity homes
Housing instability is a critical issue for pregnant women. 
According to a report issued by the U.S. Department of Housing and Urban Development, "homelessness disproportionately affects women and children." Some studies indicate women "represent as much as 80 percent of adults in families experiencing homelessness in the United States." 
A 2019 article on housing states that "pregnancy can increase a woman's risk of homelessness, and pregnant women face greater health risks while unstably housed." The article went on to say, "Women experiencing homelessness were more than twice as likely to experience a complication that affected their health during birth and almost twice as likely to have an early or threatened labor or a hemorrhage during pregnancy…" 
Maternity homes help combat those statistics, and therefore, are also critical in combatting abortion. An estimated 400 such homes are found in the United States, said Valerie Humes, Heartbeat International's new housing specialist and director of the National Maternity Housing Coalition. These places of sanctuary are vital to combatting abortion for two primary reasons, she said.
"Maternity housing shows we care about mom," said Humes. "Many of these homes showcase that through holistic programming – they're going to help her with what her aspirations and goals are: her health, her employment, financial management, education. And all these things are with the mentality that if mom is okay, then baby is going to be okay also."
Tweet This: "Maternity housing shows we care about mom" - pregnancy help medical clinic director
Maternity housing provides another significant benefit: generational impact.
"When you have maternity housing, you are doing long-term care with individual clients verses short-term care with many clients," Humes said. "The beauty and efficiency of that model is that you're serving two clients at a time because it's automatically mom and baby. So, the greater those impacts and the longer term that service is, the greater access there is to baby and the greater the outcome is for baby."
Such housing may also positively impact other family members and fathers of babies, she added.
"What starts out a perceived crisis for one woman oftentimes turns into a whole family, and multi-generational, ministry," she said." And with that, you can begin to see family lineage change – and patterns change."
That can include a woman's worldview.
"Whenever a mom is able to learn her own preciousness, she then learns the preciousness of her child," Humes said.
Tweet This: "Whenever a mom is able to learn her own preciousness, she then learns the preciousness of her child"
"When she's living in the home, we are able to direct attention towards her and her preciousness," she added. "That impacts her worldview." 
Humes continued, "In choosing life for that child and viewing that child's preciousness, should circumstances change in the future and there's a subsequent pregnancy, what we found is that although in that moment she is at the highest vulnerability and highest risk to choose to terminate that pregnancy, for those who have lived in a home and have learned their own preciousness, their willingness to choose life for that subsequent pregnancy goes up."
Pregnancy centers embrace maternity home model
Clarity is among several pregnancy centers to offer housing for clients. Living Hope Centers in eastern Arizona and Living Alternatives in Tyler, Texas, also provide such services. 
For her organization, Dickinson foresees housing as an important service that Clarity will embrace not only now but also in the future.
"Housing is such a need in our community," she said. "I think housing is going to be a huge backbone of Clarity going forward and that's just really exciting."
Editor's note: Heartbeat International manages Pregnancy Help News.