Mary was in a dark place when she found herself pregnant, scared, confused and suffering from domestic abuse. Her baby's abusive father had one solution to the situation and that was something Mary wouldn't do: Have an abortion. 
"He told her if she wanted a pet she should get a goldfish," recalls Joanna James, board president at Hope in Northern Virginia, the pregnancy center where Mary eventually sought help.
Mary's abuser drove her to the abortion facility, but when she got there, she couldn't go through with it. 
"Why am I here?" Mary thought when the technician performed her ultrasound and told her that she had a healthy pregnancy.
With that, she got off the table and left the abortion facility.
[Click here to subscribe to Pregnancy Help News!]
Instead, Mary turned to Hope in Northern Virginia, a pro-life non-profit in Falls Church.
"What I remember most about this beautiful client was the brokenness and how very rootless and lost she seemed," James said. "I understood where she came from and just how very vulnerable you are when you find your identity in anything other than Christ, especially if you are seeking to find value in a man who will not honor or cherish you." 
Through Hope, Mary grew to understand that truth in a powerful way.
"This was my first pregnancy, and I was desperate for guidance and support," Mary said in a reflection. "When I first arrived at Hope, I met with one of the volunteers—or 'angels' as I like to call them—and my initial sit-down with her literally changed my life."
Indeed, a couple of short years later, Mary's life looks entirely different. Free from her abuser, she now has a one-year-old son, a community of support, and a new job. And at the end of January, she even took a trip to Washington D.C. to share her testimony with members of Congress—all because she left the abortion facility and found hope instead. 
The house full of "Hope"
Like many women who've had an abortion, Mary was under immense pressure when she was nearly coerced into having one. 
A 2017 study published in the Journal of American Physicians and Surgeons found that nearly three-quarters (73.8 percent) of women who have had an abortion felt pressured to do so.
According to the Population Research Institute, "Of the 987 women surveyed, more than half (58.3 percent) indicated that they decided to abort in order to make others happy. Nearly 30 percent of survey respondents admitted that they were afraid that they would lose their partner if they failed to terminate their pregnancy."
Following their abortion, many of the women were overcome with regret. 
"Women reported symptoms of depression (14.4 percent), guilt (14 percent), shame, regret, self-hatred, feelings of worthlessness, feelings of being unworthy of love, drug or alcohol addiction (9 percent), low self-esteem, anxiety, and thoughts or attempts of suicide (6.2 percent)," reported the Population Research Institute.
Instead of an abortion and more suffering, Hope in Northern Virginia supplied Mary with compassion and empowerment—not to mention material assistance to help with the extraordinary cost of basic prenatal care.
I was reassured that MY decision to keep my baby was one I could do and that I wouldn't be alone. (My consultant) made me feel brave and strong. As cliché as it might sound, I left the house full of "hope."
I walked out with material items, but even better, Hope paid for my first doctor's visit. I was twenty weeks pregnant and had not been to the doctor once, because my job didn't offer insurance, and I didn't qualify for Medicaid. I don't know how I will ever repay them for that. 
I was and still am in shock and disbelief that complete strangers would help me the way that they did. I cried the entire way home and told all of my loved ones about my visit. 
Like thousands of pregnancy centers around the world, Hope offers pregnancy tests, pregnancy options counseling, childbirth and parenting education, and material items, such as maternity and baby clothes, strollers, and car seats, all free of charge. Last year, the center had 1,780 client visits.
"What Hope does for struggling mothers and children in the community must be the work of the Lord," Mary wrote. "Even more than material support, Hope has given me strength. I am reminded of how strong I am, and that my situation would be tough for anyone. But I can do it. I am a single mom who left her abuser, but I'm not alone."
Far from alone, Mary has an entire "army" of support, rooting for her success.
"One of my favorite quotes from Mary is when she said that she felt like as soon as she chose life, this entire army surrounded her to support her and give her the strength to be a mom," James said. "That is our purpose at these pregnancy centers, not only to provide for material needs, but for emotional and spiritual ones as well. What if she hadn't been obedient to the Lord's call to carry her child? Where would she be? Praise God we will never know!"
Tweet This: "That is our purpose at these pregnancy centers, not only to provide for material needs, but for emotional and spiritual ones as well"
Today, Mary's son Dominic is a thriving one-year-old, and he and Mary continue to be enriched by the work of Hope. Mary participates in the Friends in Hope mentoring program which matched her with, whom she calls, a "beautiful single mom who has a son my age and has been with me every step of the way."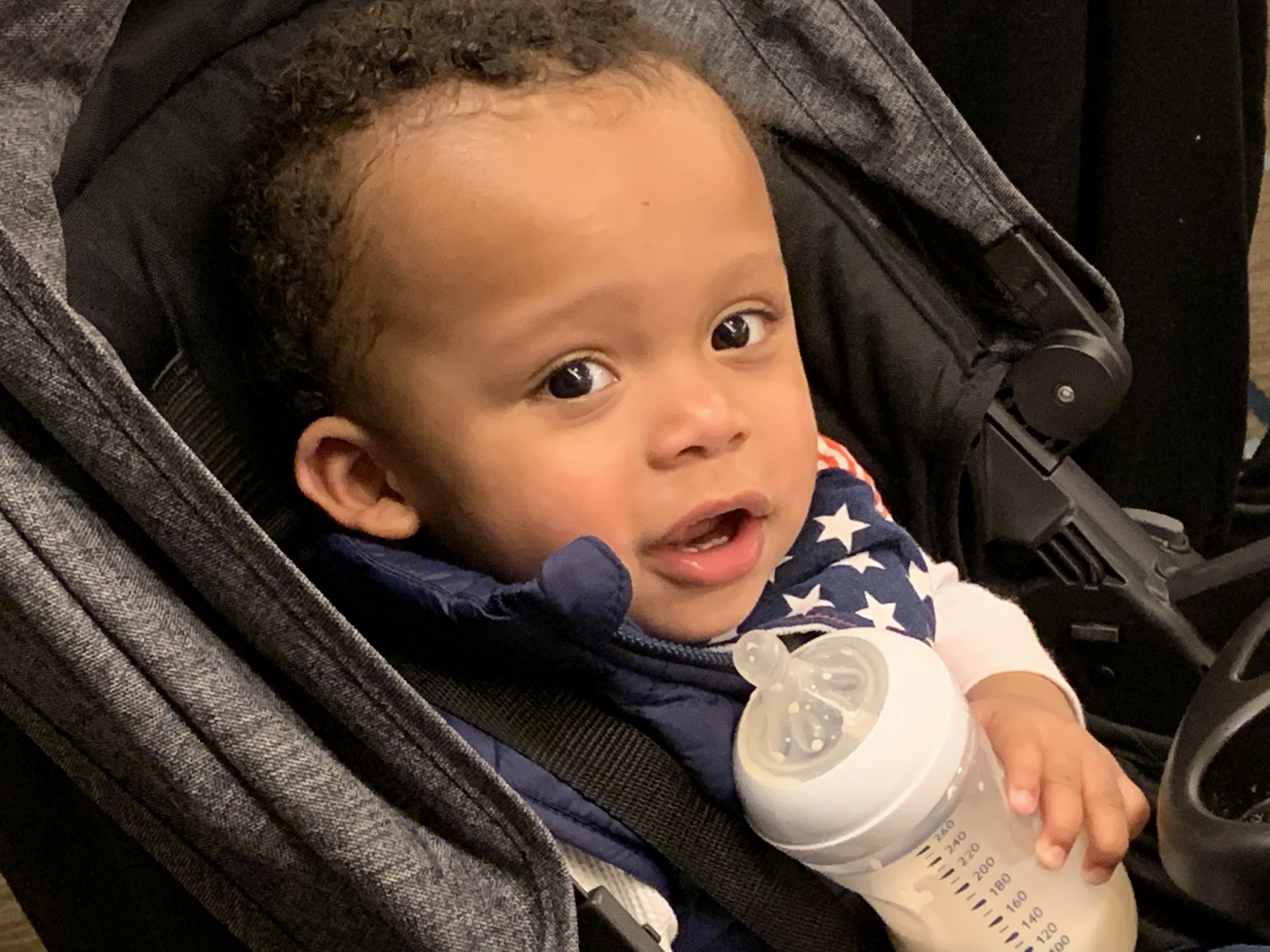 In addition, one of Hope's donors provided Mary and Dominic with a free professional photo-shoot. And when Mary's job cut her salary, the center stood by her in prayer, providing her with extra material assistance as well.
"Now I have a new job with benefits, praise God," she wrote.
On top of all of that, this past January, the center treated Mary and Dominic to a trip to Washington D.C. for Heartbeat International's Babies Go to Congress, an annual event in which women helped by pro-life pregnancy centers share their incredible stories with lawmakers on Capitol Hill. The event precedes the annual March for Life in which hundreds of thousands of pro-life advocates peacefully march to end abortion.
Together with five other brave moms, Mary shared her harrowing story throughout the halls of Congress.
"Today we met some pretty important people," she told Pregnancy Help News at the time. "It's a memorable experience."
"God can use our brokenness for His glory when we submit to His will," James said. "He gave Mary that baby for a purpose. That pregnancy, that new life, gave her the strength to say, 'No,' to her abuser, the strength to leave him, and the strength to embrace light when she had been living in darkness. She is completely transformed and praises God for His mercy in doing so."
From surviving domestic abuse to sharing her testimony in the nation's capital, Mary has come a long way over the last several months, and she is thankful to one place in particular for helping her achieve that.
"Because of Hope, there is a place for people like me to turn to when they have nowhere else to turn," she wrote. "A place where I gained a whole new family. A place where they do the work of the Lord and share His hope."