Editor's note: Alexandra Nadane is executive director of the "St Alexandra the Empress" Counseling Center, Bucharest, Romania. Nadane, also the president of  Romania for Life, was the recipient of Heartbeat International's Heart of the Future Award in April 2019 at Heartbeat's annual conference in Dallas, Texas. The award honors emerging leaders in the pregnancy help movement.
This article was originally published by the Alexandra Center's website, CentrulAlexandra.ro, and is reprinted here with permission.
 
A few years ago, a reporter asked me: "When you got involved in the pro-life movement, did you have any detailed plan? Did you know where you wanted to end up?" I laughed remembering the unknown and difficult journey I had experienced up to that point.
No, I didn't know where the road would take me, but I pressed on, practically dealing with everything that came my way. And a lot of the cases were pregnancy crises. Tens, hundreds of them. There was clearly a need for professional people to work in this field. So the "St. Alexandra the Empress" Counseling Center appeared.
[Click here to subscribe to Pregnancy Help News!]
Then I noticed that people who worked in pregnancy help centers across the country needed to share and learn. To cater for these needs, we organized the First National Conference of Pregnancy Crisis Help Centers. It took place on October 4-6, 2019, at Caraiman Monastery in Busteni, Prahova County (Romania). 
The conference brought together 30 participants from all over Romania and the Republic of Moldova: pregnancy resource center managers and representatives, psychologists, social workers, volunteers, members of other organizations, and individuals who wanted to open such a center or simply work with women in pregnancy crisis. 
On Friday, October 4, participants shared ideas about their work, experiences, joys, and the difficulties they face. On Saturday, the program included four sessions:
• Session I "Project Management and Pregnancy Help Center Management", speaker: Alexandra Nadane, executive director of the "St Alexandra the Empress" Counseling Center, Bucharest.
• Session II: "The Social Worker's Role in Assisting Women in Pregnancy Crisis", speaker: Mirela Andrei, social worker of the "St Alexendra the Empress" Counseling Center, Bucharest.
• Session III "Working Protocols in Pregnancy Crisis Counseling. The Counselor's Role in Pregnancy Crisis cases", speaker: psychologist Andreea Olteanu (PhD), assisting trainer of counseling at the Institute of the Romanian Society for Experiential Psychotherapy (SPER) and President of the Association for Child Development and Family.
The last session, entitled "Goals and Plans for the Future", was dedicated to creating a working group for those involved in pregnancy crisis assistance to support them in developing professional pregnancy help programs. "St Alexandra the Empress" Counseling Center will organize monthly webinars on different topics to train and assist people involved in this line of work.
The next National Conference of the Pregnancy Crisis Help Centers will be held in October 2020.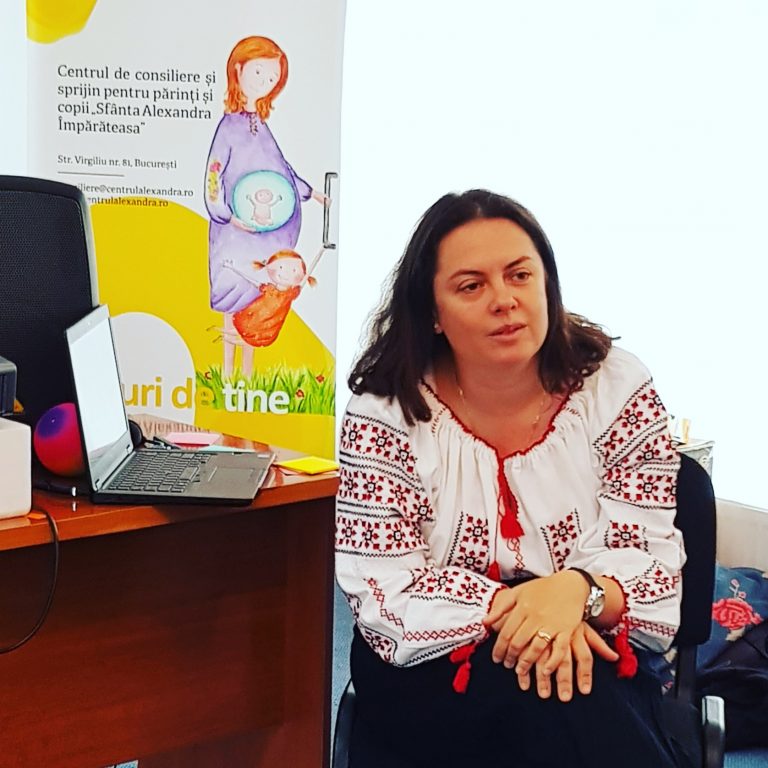 Below are a number of testimonials by participants at the conference:
"We waited for many years for such an event. We appreciate the initiative of "St Alexandra the Empress" Counseling Center and we hope that it will become a tradition, with more and more centers joining in every year. The exchange of experience, the relationships created, the information received enriched us and gave us courage to continue our work of assisting women in pregnancy crisis."- PULS Center, Oradea
"I have just realized that we are not alone and this gave me more courage and determination to help." – Clujul pentru Viață ("Cluj for Life") Association
"Attending the conference helped me understand the need to open a pregnancy help center in Arad. The quality of the information received, the professionalism of those involved, the hands-on approach on real cases have inspired me to get actively involved." - Loredana, Tineri pentru Viață ("Youth for Life") Association, Arad
"It was a beautiful warm experience and I have met people open to sharing. I've learned new things. I feel that this conference has helped me grow both on a professional and personal level. "- Anca Pulpa, psychologist, The Pro Vita Department of the Orthodox Metropolis of Moldavia and Bukovina.
"If they receive practical and emotional support from close friends, relatives or experts, pregnant women will be able to overcome all difficulties and choose life for their child. This meeting was a joyful occasion, a new experience on a familiar yet ever new topic that is important, moreover, it's vital." - Nadejda Usatîi, President of Moldova for Life Association
Tweet This: If they receive practical and emotional support, pregnant women will be able to overcome all difficulties and choose life for their child
"Thank you for the wonderful conference. For me, the days spent learning together, getting to know each other, sharing opinions and experiences, establishing future collaboration were among the most beautiful days of this year." - Estera Mardar-Simina, "Estera" Center, Timisoara
"We enjoyed being with other organizations, meeting other people involved in the same field of work, which is assisting women going through a pregnancy crisis and their children. We have received eye-opening information, we established work connections and shared experiences. We are looking forward to next year's conference!" - Simona Mihălescu, "Elena" Center, Rădăuți
"I have learned many new things that I could not have discovered on my own. It was a great experience."- Counseling and Support Center for Parents and Children, Hârja
"This conference is a promising initiative that should continue year after year so that we can exchange experience in pregnancy help." – Dana Stavovei, Fălticeni pentru Viață ("Fălticeni City for Life") Association
"I feel spiritually enriched after this conference, with the hope and confidence that many good things can be done through our involvement" – Nicoleta C., Constanța