Multi-generation pro-life support for women and babies was evident at the national event celebrating the first anniversary of the overturn of Roe v. Wade in Washington D.C. Saturday.
Pro-life advocates of all ages traveled from across the U.S. for National Celebrate Life Day, the Students for Life event was held at the Lincoln Memorial marking the year since the June 24, 2022, Supreme Court Dobbs ruling which gave the states back their right to regulate abortion.
[Click here to subscribe to Pregnancy Help News!]
Pro-life supporters came to celebrate the pro-life victory, learn how to move forward in the Dobbs era, and show support for those affected by abortion and women in unplanned pregnancies.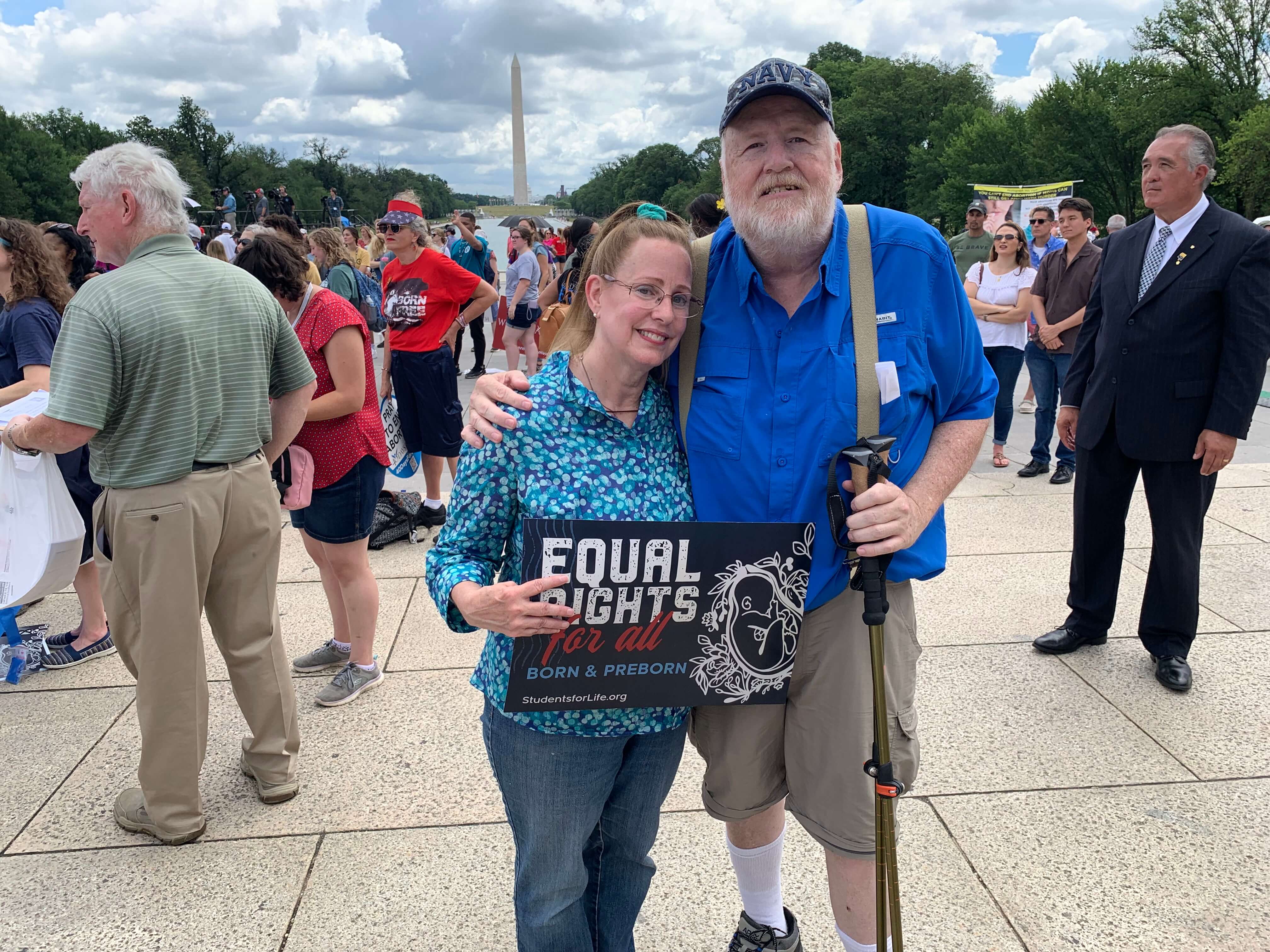 Louis and Amy Seymour came from the Billings, Mont., area.
Amy Seymour, who is president of Yellowstone Valley Christians for Life, said that she will probably end up doing a similar Dobbs anniversary event locally in the future and wanted to get a feel for how it should go. Plus, she has never been able to attend the national March for Life and really wanted to be in D.C. to mark the Dobbs anniversary.
"It's fantastic to see so many people out here supporting Dobbs v. Jackson and celebrating that the Supreme Court finally overturned Roe v. Wade," she said. "And we have a chance now at the state level, at local level, at the regional level to do things, to enact pro-life legislation in Montana." 
Seymour said Montana has a pro-life governor, a pro-life house and senate, and while the state passed pro-life bills, the Montana Supreme Court is very anti-life, squelching the pro-life bills that get signed by the governor. 
"So, we need to be an activist still at the local level," she told Pregnancy Help News, "but we need to come together at the national level, not trying to change things at the national level as much, however, we need to still unite at the national level."
Seymour echoed a sentiment expressed at the rally that this is not the end of an era, this is the beginning, the dawning of a new era. 
"And it really, our work is just beginning," she said, "you know, when graduates graduate from high school, they call that a commencement, because we're supposed to go fourth and commence our work."

Antoine traveled from Philadelphia and Emma came from Indianapolis for the Students for Life of America fellowship program and to celebrate the overturn of Roe v. Wade.
"I wanted to show my support for the babies, all the lives that were lost and for anyone, the mothers, the fathers, the who has ever been touched by abortion in any way," Antoine said.
In addition to celebrating the Dobbs decision Emma said she wanted, "to continue to advocate for equal rights for the pre-born because we can separate humanity from personhood."
"It's important for people to know that my generation, Gen Z, is pro-life," she said. "We have pro-life conversations at school. And the fight isn't over, and it's not even left to past generations anymore. We're ready to take up the torch."

Nicole from Fredericksburg, Va., attended the rally by herself because she felt called to be there.
She said she thinks it's important to stand up and be seen advocating for life, so that mom's facing unplanned pregnancy can see that there is a safety net of support for them. At age 19 when she was in this situation, Nicole said she had more people telling her she couldn't do it than telling her that she could.
"We have to come out and support all the babies that are coming into the world," she said, "to protect them, to protect the moms that find themselves in unplanned pregnancies."
Tweet This: We have to come out and support all the babies that are coming into the world, to protect them, and protect the moms.
"I just came out to support them and show that there's more than just what they see," said Nicole, "that there's a lot of people out there in the world that are here to support them. I want to show my support."
Nicole told Pregnancy Help News she feels that we must step out in faith when it comes to defending life and showing support for women and their children. 
"I just feel that urge that America has to rise up, that we have to say, 'you know what, decisions that get made sometimes in life are not the right decisions," she said. "And sometimes people are deceived.'" 
Nicole explained that she wanted to spare other moms from feeling like they have no support. 
"Because I know in my own walk in life I was deceived at a young age of 19," she said, "and so at the age of 45 I'm out here telling this young generation that you too can live pro-life, you too can live and have your baby, even though your life can seem in disarray -this baby came, I'm not ready for a baby - that there are people that will be there to support you."
"So, for me, pro-life is important because if it goes with what I believe, and I believe in Jesus Christ, I believe in life," said Nicole. "I believe that He gave us life. So, if I come out here and I say, 'Hey, I believe in these things,' then I want other people to do the same. That's why I'm here."