Gathering together in person without restrictions for the first time in three years, Heartbeat International's 2022 Annual Pregnancy Help Conference had record in-person attendance. 
Heartbeat's Conference was completely virtual in 2020 due to coronavirus lockdowns. Virus restrictions still in place in 2021 thwarted international affiliate attendance in person and affected Conference operations.
The 2022 Conference took place in Jacksonville, Fla., Florida being one of a few U.S. states that are freest from virus restrictions.
But in addition to overall high attendance numbers, some pregnancy help organizations that came to the conference brought significantly more staff members this year than has been the norm.
[Click here to subscribe to Pregnancy Help News!]
Heartbeat is the largest pregnancy help network in the world, and hosts the largest pregnancy help gathering as well, with premier education and networking opportunities. But Conference attendees also greatly value the connection with other pregnancy help servants the Conference affords. It is often a sacrifice for centers to send one or two people.
Even so, some groups were well beyond the typical attendance numbers for individual centers, with some bringing their entire staff and attendance numbers as high as 20 for a center.
The norm is one or two people, Heartbeat International Director of Affiliate Services Beth Diemert told Pregnancy Help News.
"Large groups are definitely an exception to the rule," she said.
Diemert believes the last two years of being restricted from being together, whether fully or in part, had an impact.
"I do think the idea of wanting to be back together and the times we are in is a factor," Diemert said.
But recognition of the value of the Conference likely played a part as well.
"Leaders are realizing that having your whole team experience the conference together not only bonds and inspires them, but the training they are able to acquire as a big team spreading over different sessions, is empowering them to advance onward at a rapid pace!" she said.
Tweet This: Pregnancy help leaders are realizing that having your whole team experience Heartbeat's conference together bonds and inspires
Heartbeat of Miami brought 20 people.
"There were 20 of us," said Heartbeat of Miami President Martha Avila. "Fifteen staff and five board members."

The group stopped by the Priests for Life (PFL) exhibit and visited with PFL National Director Fr. Frank Pavone.
"We had a wonderful photo shoot this morning at my booth with the fantastic large team from Heartbeat of Miami!" Pavone told Pregnancy Help News.
Avila said bringing the crew to the Heartbeat Conference was an answered prayer.
"It had always been my prayer to bring my team and the Lord answered my prayer and He provided so that I could do this," she said.
"My team is so grateful, motivated, and energized!" Avila said. "They are always at the frontline of the battle pouring themselves out and this conference has poured on them."
Heartbeat of Miami was not alone in bringing a large group to Heartbeat's Conference.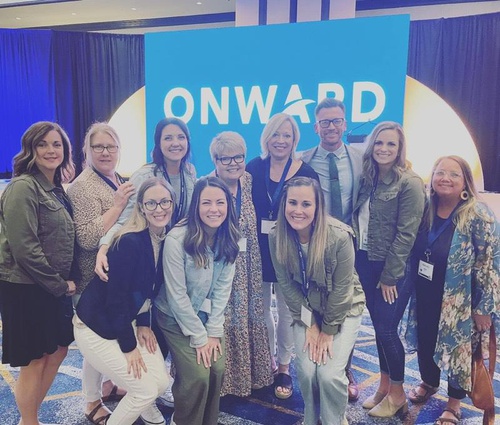 Hope Resource Center in Knoxville, Tenn. brought all but two staff members, as the two were unable to make the trip due to family obligations, Executive Director Andrew Wood said.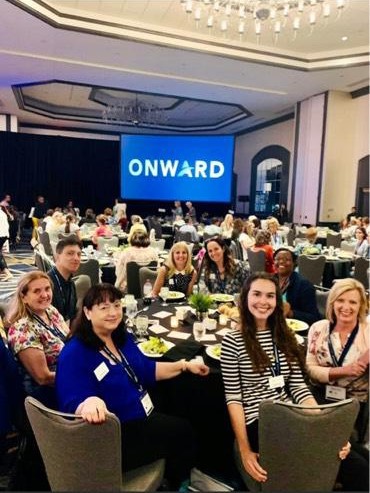 "We had 12 here," Wood said. "Staff nurses, nurse manager, director of Clinical Services, Development director, director of Operations, director of Patient Services, and our front desk staff."
"We try to take the whole group somewhere every other year," he said. "It's been a great opportunity for all of them."  
The Heartbeat Conference provided more than time away from the center for Wood's group.
"I feel like offering this opportunity allows for my team to see that they aren't alone in the fight," he said, "they have something to offer to others, and there is always an opportunity to learn."
First Coast Women's Services located in North Florida with five locations had 10 staff members attend. 
"We are all excited to learn what we can to continue to improve and grow our ministry," Cathy Perry told Pregnancy Hep News.
LifeChoice Pregnancy Center in Winter Haven, Fla. brought seven team members: their Client Services director, nurse manager, executive director, office manager, and two other client advocates
"This is our first Heartbeat conference and we're excited to glean all that we can to further the ministry serving our women and families in our community," said Nurse Manager Joy Hoverkamp.

Anchor of Hope from Sheboygan, Wis. brought four of their team, including their nurse assistant manager, administrator assistant, client services manager, and a board member. 
"We are all happy and excited to be here to learn and take all information back to our community," said Veronica Norton, "to be able to continue serving women, men and families with fresh new ideas, inspiration, refreshment, and with God leading the way in all we do."
Richland Pregnancy Services in Mansfield, Ohio, brought four from their team, including their executive director, Development director, Client Service director, and nurse manager. 
"Our director values the education we receive from conferences," said Amy Kahl. "It's a great opportunity to reignite our passion for this work!"
Black Hills Pregnancy Center in Rapid City, S.D., brought their Client Services coordinator, nurse manager, and their nurse.
The center brought their personnel to "Stay updated on all the new things related to PRC ministries," Lori Henry told Pregnancy Help News.