Soft worship music plays from a small speaker in the hospital delivery room as Jamé moans in labor. The rest of us pray quietly, breathing with her, willing our strength to be hers.
Soon, the baby begins to crown. The midwife grasps the little head as Jamé pushes with a final, guttural effort. I can see the baby's face, then her shoulders, then her torso, and finally her legs as the midwife pulls and twists her out.
With her first breath, Baby lets out a protesting cry. We croon with empathy and laugh with joy, wiping tears from our eyes, hugging each other, whispering in awe.
It is a holy moment. 
[Click here to subscribe to Pregnancy Help News!]
The birth of a child is always a wonder—even more so when a child is long awaited.
On this special day, several years and miscarriages after their first daughter was born, my son Sam and daughter-in-law Jamé finally welcomed their second child into the world. 
Her first name is Iva-Mae, meaning "God is good" and "wished-for child."  She is an answer to many prayers.
(She's our eighth grandchild and her middle name is Susanne, which I'm pretty thrilled about.)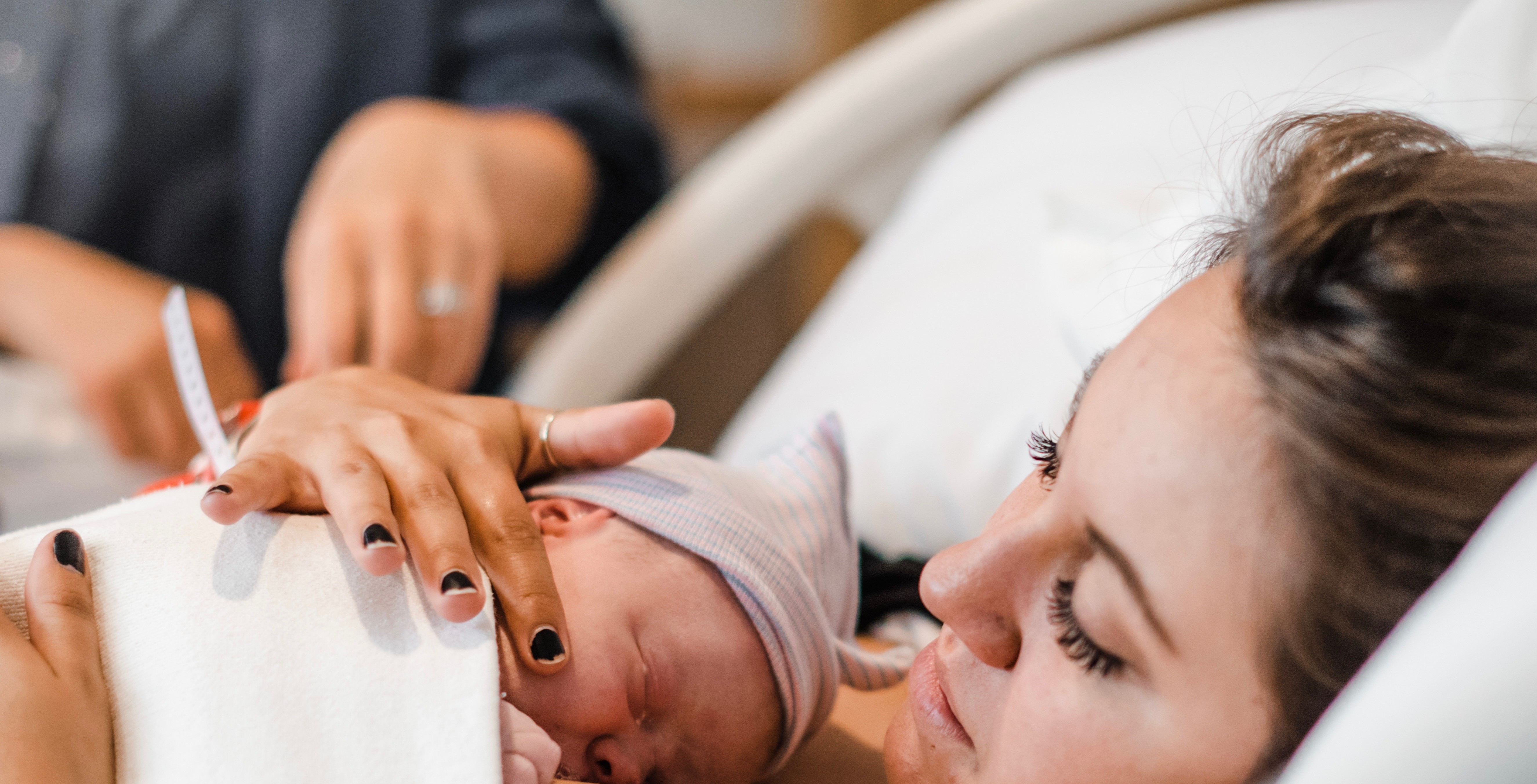 A few days after Iva-Mae was born, I happened upon an article about "partial birth" abortion. The article was written from a pro-life perspective, but I didn't have the heart to read through it. All I could think of is the stark contrast between the beauty of birth and the unthinkable horror of partial-birth abortion.
Could the contrast between the cause of life and our culture's death wish for the preborn be any more glaring?
Preborn children, at any stage of development, are the most vulnerable human beings of our population—yet there is something particularly reprehensible about killing a child just as he or she is being born.
What should be a beginning turns into the end.
What should be a delivery into a warm, welcoming world turns into the jaws of a fatal trap.
What should be an atmosphere of love, nurture and protection turns into cold indifference toward the helpless newborn being brutally murdered. 
No worship music playing softly. No welcome or empathy for the innocent. No loving arms enfolding the new little one with comfort and care.
Just a ghastly deed which can surely only be done with a seared conscience.
Of course, abortion at any stage is wrong. It is the willful death of an innocent child, one created in the image of God.
But our society has embraced twisted values.
We call abortion a "choice" and insist it is a "woman's right." We use all kinds of clever euphemisms to disguise wickedness as something that's just fine.
Isaiah 5:20 warns,
"Woe to those who call evil good and good evil, who put darkness for light and light for darkness, who put bitter for sweet and sweet for bitter."
No matter what abortion advocates claim about it, abortion is not good. It is not light. It is not sweet.
It is evil and dark and bitter.
This is why the pregnancy help community rolls up its sleeves to extend compassionate services and support to women and couples facing unplanned pregnancies.
Tweet This: Abortion is evil/dark/bitter. This is why the pregnancy help community rolls up its sleeves 2extend compassionate services & support 2women.
We ground our work in what God has to say about the value of all human life, and we work to do His will.
Instead of suggesting that a woman invite death into her being by destroying her own child, we give her the help and support she needs to make a life-giving choice.
Of course, the work is about so much more than the initial pregnancy decision. We offer Life on many levels—emotional, spiritual, social. 
We understand that, when a woman chooses life for her child, she doesn't have to kill anything—not even her dreams.  
Choosing life means choosing the path of blessing. It means pleasing God rather than angering and grieving Him.
It means embracing and welcoming an amazing new image-bearer instead of rejecting and destroying him or her.
It is a choice of goodness and light and sweetness.
This is what you help women do, over and over. You help them choose goodness, not evil; light, not darkness; sweetness, not bitterness.
Life, not death.
Don't listen to the detractors and the haters. Don't pay any heed when people call evil a good thing.
You are making holy moments possible. You are helping dreams come true, without a dark price tag attached. 
You are valuing and honoring the least of these, as Jesus commands us to do (Matthew 25:45).
At the end of the day, the outcome of your labor is bright with hope and sweet to the soul.
Keep up the good work.