Keith Ellison, attorney general for the state of Minnesota, has declared open season upon pregnancy help centers, a local pro-life advocate says, making false claims about pregnancy centers with no basis whatsoever.
Brian Gibson, executive director of Pro-Life Action Ministries out of St. Paul, Minn., alerted pro-life advocates of the press release published late this past summer by Ellison.
Passed off as a "consumer alert," Ellison's statement claims pregnancy centers "may provide misleading information about abortion and contraception, and often do not provide services they claim to offer," and encourages Minnesota residents to contact his office "with concerns or complaints."
Ellison, "declared open season on pregnancy resource centers without even looking into the practices of any of these centers," Gibson said.
[Click here to subscribe to Pregnancy Help News!]
Ellison's official description of "abortion rights" and warnings against what he calls crisis pregnancy centers (CPCs) reveal not only blatant abortion activist bias but a lack of any real grasp of the practices and offerings of pregnancy help centers.
"Clearly taking the word of abortion activists, which he is one of, Ellison has declared harm upon these noble centers of help for those willing to accept aid so often offered at no cost to pregnant women," Gibson said.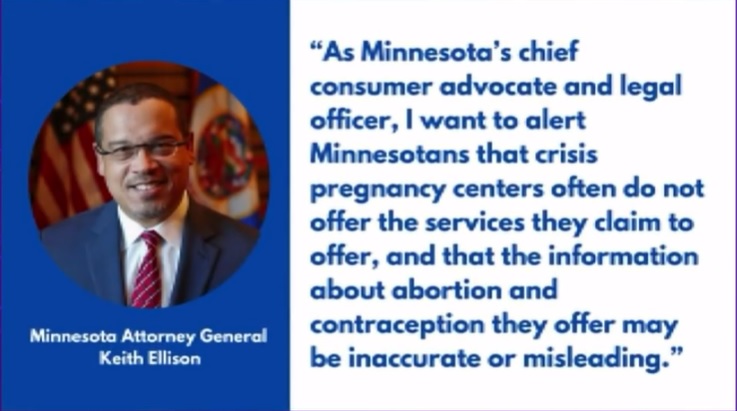 This latest initiative taken by Ellison - who is running for reelection - should come as no surprise given his pro-abortion record as a U.S. Congressman along with actions and inaction as Minnesota's attorney general, which according to Gibson, led to the complete destruction of any laws restricting abortion or protecting women receiving an abortion.
Referencing both the latest attack via his "consumer alert" and his lack of a willingness to defend the pro-life laws of the state before a state district judge back in July, Gibson finds it both ironic and hypocritical for Ellison to attempt to appear to offer any protections to citizens.
"The hypocrisy of this move by Ellison is that not only did he sandbag the case of regulations not being applied to abortion clinics, by refusing to defend the law he gave up regulations for a surgical procedure so that you don't even need licensed doctors to perform the procedure anymore," Gibson noted.
Minnesota House Representative Kurt Daudt told NBC News that he had urged Ellison to appeal the ruling which struck down the regulating of abortions. 
"It will put lives at risk by allowing non-physicians to perform abortions and second or third trimester abortions to be performed in non-medical settings," Daudt said.
So, true to form, Ellison has not only supported abortion on demand, Gibson says, he has also dedicated the resources of the office of the attorney general to attack the 89 pregnancy help organizations in the state. 
KARE 11 News interviewed Ginny Rogers, executive director of Lakes Area Pregnancy Support, regarding Ellison's "consumer alert," and she stated, "It is very generalized and unfair, quite honestly."
The referenced nine-state study used by Ellison's office to launch his campaign against pregnancy centers was published by The Alliance: State Advocates for Women's Rights and Gender Equality. The group self-describes as a collaboration of state-based law and policy centers working across the country to advance gender equality at the intersection of reproductive rights, economic justice, LGBTQ+ equality, and gender-based violence. The Minnesota chapter is Gender Justice.
One concern Ellison stressed in the consumer alert is the fact pregnancy centers greatly outnumber abortion clinics. 
Commenting on a report on the real choices women have with pregnancy help, Betty McDowell, vice president of Ministry Services for Heartbeat International, noted the reason pregnancy help centers so greatly outnumber abortion clinics. 
"Unlike Big Abortion which profits when a woman has an abortion, pregnancy help organizations are motivated and inspired when a woman 'profits' from the pregnancy help community," McDowell said.
Rogers remarked on how focused Ellison is on championing the abortion industry while crime is out of control. 
"Being so concerned with abortion rights with so many shootings every night in Minneapolis—there is a lack of police officers making it unsafe," Rogers remarked to Pregnancy Help News.  
Tweet This: Ellison's "consumer alert" claims pregnancy centers "may provide misleading information about abortion and contraception ..."
Lakes Area Pregnancy Services is one of the non-medical pregnancy centers which offers pregnancy help and ultrasounds through referrals to medical clinics outside their center. The center has other pregnancy help services such as programs for clients to earn material items by attending parenting and life skills classes and it also offers life coaching. 
Rogers's center is an affiliate of Care Net which provides standards of care for their centers. 
"I don't understand why people get upset when we provide services they don't and they provide services we don't," Rogers said. "I don't understand what the big controversy is over what we do." 
"We are definitely pro-life and hope clients would choose life," she said. But no one at the center endeavors to mislead or in any way pressure clients.
Beth Diemert, director of Affiliate Services for Heartbeat International, the largest network of pregnancy help organizations in the U.S. and globally, noted how the protocols and standards for pregnancy help organizations affiliated with Heartbeat provide consistent service to clients.
"All of Heartbeat International's affiliated providers in Minnesota, whether they are pregnancy help centers, medical clinics, maternity homes, or adoption services, sign onto the Commitment of Care and Competence to serve their community with honesty, integrity, and equality," said Diemert.
But this readily available information was not considered by Ellison's office, and only the Alliances' report, which was produced solely through the abortion industry's advocates, was the only material referenced.
For more than 50 years pregnancy help organizations affiliated with Heartbeat have been saving lives and serving women in need. 
"When a woman faces an unintended pregnancy, she finds herself in a valley of decision," Diemert said. "She deserves to have all the information, on all her options, delivered to her with compassionate care, as she makes one of the most difficult decisions in her life." 
"Pregnancy help organizations do this daily," added Diemert, "along with providing tangible resources and on-going support."
Gibson reflected Ellison's targeting of pregnancy centers with a dubious consumer warning. 
"He didn't defend any of the former laws restricting abortion using information from this organization that he was supposed to be defending Minnesota laws against," Gibson told Pregnancy Help News. "Then he created information out of thin air about pregnancy help organizations which is untrue." 
"Many centers are medical clinics," Gibson continued.
"It is true they do not offer abortions or refer for them," he added, "they are pro-life organizations." 
"Ellison opened up the AG hotline urging the public to call in to complain about pregnancy centers to build a bigger case that these centers are not good," he said.
"This is thick in irony and ridiculousness as he just gave up all abortion regulations in the state," said Gibson. 
Gibson noted the reality about pregnancy centers in contrast to Ellison's faux portrayal of them. 
"Nowhere else do you find people so willing and selflessly trying to help women," he said. "Abortion mills do nothing for women who decide not to have abortions. So, he is attacking the one place they could go for help."
When comparing the unregulated abortion industry to pregnancy centers offering ultrasounds and exams, the contrast is stark.
"There are nearly 2,000 medical pregnancy centers in the US providing ultrasound services, medical exams and STI/STD testing and treatment," Diemert said. "Pregnancy medical centers are directed by a licensed physician (who is accountable to all applicable medical board requirements and state laws."
Further facts: since 2003, three major national pregnancy help networks – Heartbeat International, Care Net, and NIFLA - have trained more than 5,000 professionals in the management of medical centers.
Such truths continue to be ignored and otherwise misrepresented by Ellison and the abortion lobby, leaving pro-life advocates to continue to fight through the lies.
Gibson concluded with an exhortation for pro-life people of faith. 
"Christians, start standing like you should have been doing all along," he said.
Editor's note: Heartbeat International manages Pregnancy Help News.