In a state that promotes unrestricted abortion, one woman partners with her church to educate the community about abortion and the lack of value of the unborn on the part of lawmakers.
Oregon possesses few laws to protect pre-born children. Instead, the legislature, governor, secretary of state, and attorney general believe abortion should be legal without restrictions. The procedure can be performed no matter the gestational age and without waiting periods, and abortion pills can be obtained through the mail. 
Earlier this year, several law firms partnered with the Oregon attorney general (AG) to staff a hotline "to provide free legal advice and information" on the status of abortion in the state, according to a press release issued by the AG's office.
Many Oregonians don't understand what abortion is and what is happening in the state, said Donna Blachy, who lives in a suburb of Portland. 
[Click here to subscribe to Pregnancy Help News!]
"So many people don't really know what's going on," she said.
She hopes to change that.
Right to Life education event
On Saturday, March 11, Blachy, along with other members of her church, hosted an educational program featuring Makyra Williamson, community program outreach manager for Oregon Right to Life. Williamson was set to speak about "abortion 101" and "how people can support life" in the state. 
It was not long ago that Blachy came to understand more about abortion, and now she wants to raise awareness for others.
"I thought people just went to have an abortion because they decided they didn't want to have a baby, that they didn't want to be bothered," Blachy told Pregnancy Help News, "and that's not usually the case."
"A lot a lot of times, it's women or girls who feel like that's the only choice they have, and so we need to be out there letting them know they have other choices," she said. "I'm hoping to let people know that we can show them love without them being shamed."
Tweet This: A lot of times, women or girls feel like abortion is the only choice they have... We can show them love without being shamed. @wyoauthor1
The educational event took place at her church, Metro Church of Christ in Gresham, and local pregnancy center leaders were invited.
According to Oregon Right to Life, the state became one of the first to legalize abortion. In 1969, Senate Bill 193 allowed abortion under specific circumstances, which included rape and incest, and a physical and mental handicap with the fetus. In 1983, all restrictions were removed by another senate bill. 
In January, Oregon's Secretary of State stood by the state "codifying" abortion as a right and encouraged people living out-of-state to travel to Oregon to access abortion.
"In Oregon, abortion is a right," said Secretary of State Shemia Fagan. "In 2017 Oregon lawmakers passed the Reproductive Health Equity Act (RHEA), one of the strongest abortion access laws in the country, making the full range of reproductive health care services more accessible and affordable for all Oregonians. If you don't live in Oregon, you can travel here to get an abortion if you need one."
These are things that many people may not know, Blachy said. She and others from the church spread the word about the March 11 event, inviting other churches and posting on Facebook. She said she received positive responses, and she knew a lot of people who had planned to come.
Showing love to pregnant women
In addition to developing this educational workshop, Blachy began an Embrace Grace program at her church last year. One woman participated and was "spoiled," according to Blachy.
"It was a great experience," she said. "With her being the only one, she got spoiled. It was just a blessing to us all because we were able to pour out the love that we have and wanting to help someone."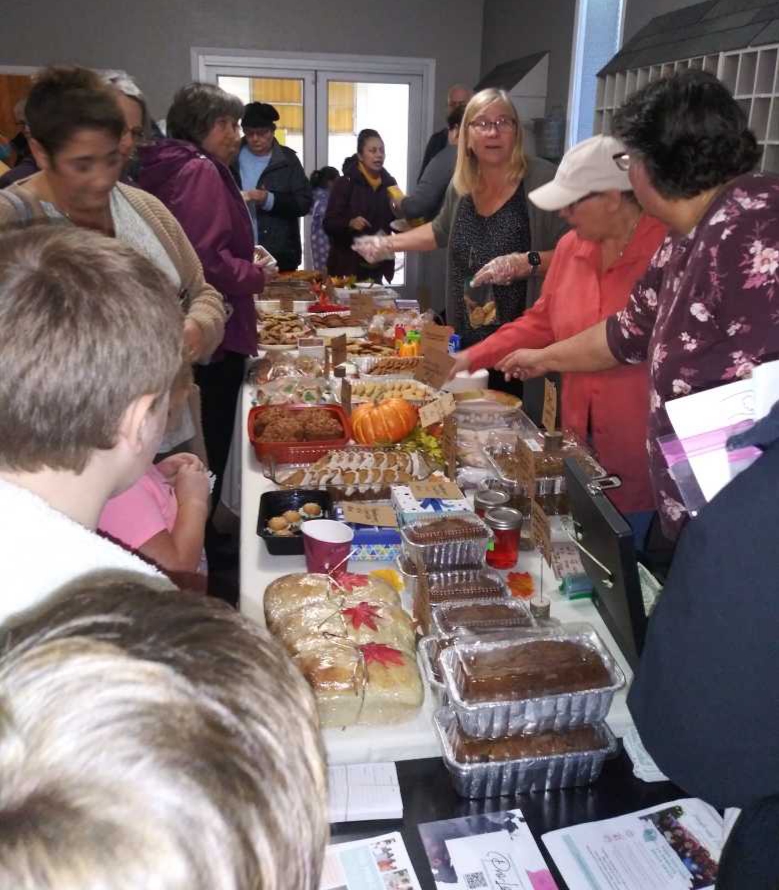 Photos courtesy of Donna Blachly
Two other women, one of Blachy's daughters and the Metro Church secretary, assist her.
A new semester of the program started in February, and three women are participating.
Blachy said she learned about Embrace Grace through Focus on the Family, and that she felt led by God to start a group at her church.
"We had a sermon one Sunday, and the minister was asking 'What makes you righteously angry?'" she said. "For me, it was all these people that think we're horrible if we don't agree with abortion, the noise that's being made for women's rights." 
"I just had several things come together, and it was clearly God who put it on my heart that we needed to do something to help," said Blachy. "That's when I received the e-mail from Focus on the Family."
After further research, reaching out to the Embrace Grace organization in Texas, and receiving approval from the church pastors, Blachy and her friends went through the necessary training and brought Embrace Grace into their church. She hopes to expand program offerings to include Embrace Life and Embrace Legacy.
"We're getting a lot of calls and emails, some of them are single moms. They're already moms, and they need help," Blachy said.
She hopes to offer all three programs at Metro Church of Christ within the next year.
Reaching out lovingly with education, whether for her community or for pregnant and single moms, motivates Blachy.
"God has placed me in this," she said.