Pregnancy help leaders were "honored" and "humbled" to be part of a ceremonial signing of nine new pro-life laws in Oklahoma recently, calling the day miraculous and "historic." 
"It was an incredible day," said Gayla White, director of Hope Pregnancy Ministries and the Oklahoma Pregnancy Resource Network (PRN).
What started out as an annual retreat for the PRN became much more with Governor Kevin Stitt (R) inviting the group to be part of the celebratory signing of the pro-life laws signed in the 2021 legislative session. The Sept. 9 event included Oklahoma Senator James Lankford (R), Susan B Anthony List President Marjorie Dannenfelser, and a group of pro-life state lawmakers comprised of sponsors of the nine pro-life laws.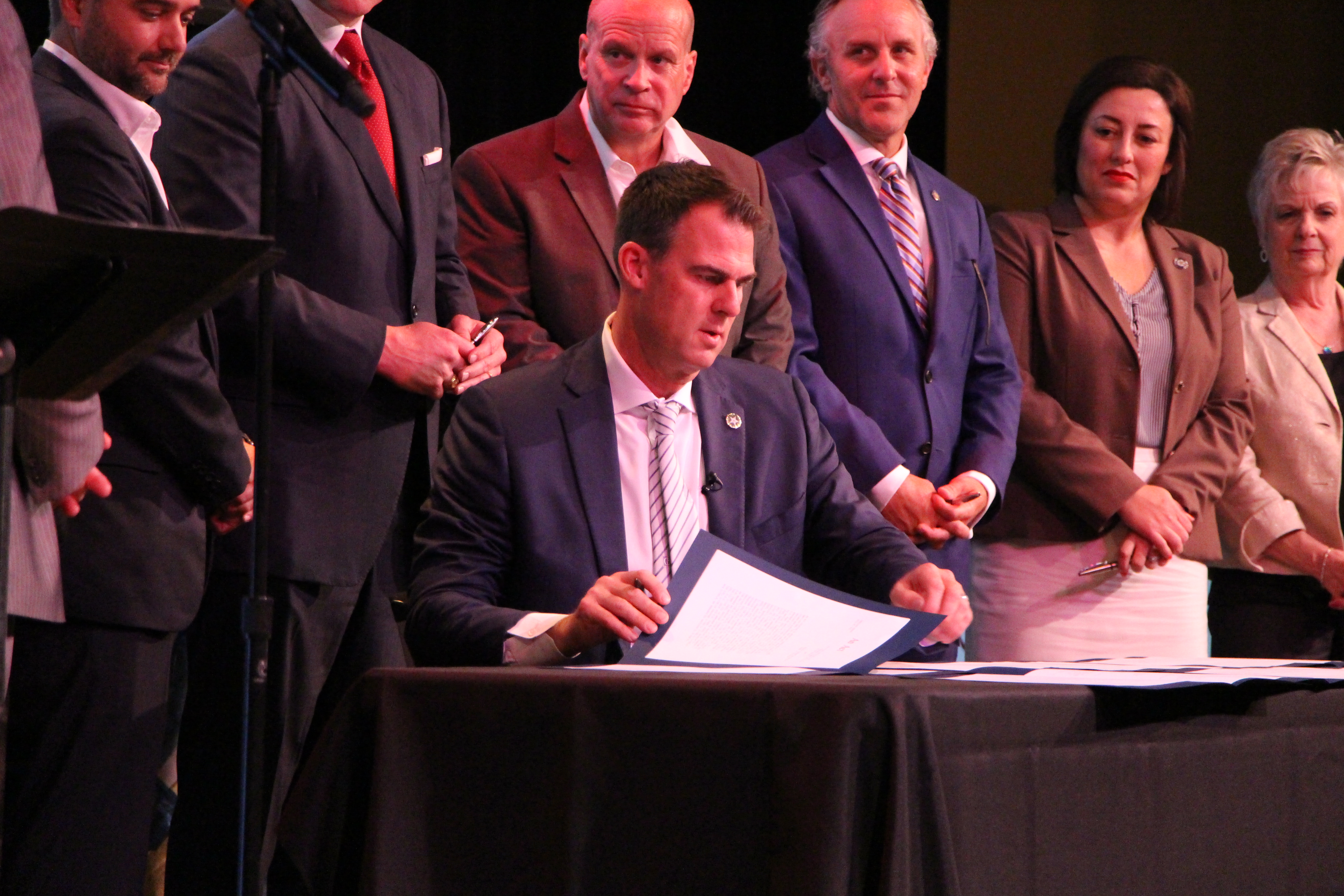 The experience affirmed members of the pregnancy help group in their work.
"As we know, pregnancy center workers serve quietly behind the scenes offering truth and hope to hurting people," White told Pregnancy Help News. "The senator, Marjorie and the governor all sincerely recognized, validated and appreciated the work of attendees."
Acknowledging the pregnancy center staff and volunteers present that day, Stitt said, "Thank you so much for what you do walking beside young women and giving people choices and options and talking to them about life."
[Click here to subscribe to Pregnancy Help News!]
Oklahoma Baptist Homes for Children (OBHC) and Hope Pregnancy Centers (a ministry of OBHC) host the Oklahoma Pregnancy Resource Network. There are 39 participating centers.
Once a year the Pregnancy Center Network hosts a conference for all pro-life workers, volunteers and board members in Oklahoma, White explained. This year's them was Rest, Restore, Ready. There were 127 participants present, and 73 registered to participate virtually. Senator Lankford was scheduled as the conference's guest speaker.  
A couple weeks prior to the conference Stitt's office called White to ask if the governor could tour one of the Oklahoma pregnancy help centers on the same day the conference was scheduled. 
"I told his staff about our conference that day and invited the governor to address the conference," White said. "God's timing is perfect!" 
That's when she learned the governor wanted to sign these bills at Hope Pregnancy Ministries. They both agreed that the conference, with pregnancy resource workers from across Oklahoma, was the better venue for that. 
"In the meantime, the Senator's staff asked if he could bring Margorie Dannenfelser with him," said White, "which, of course, was just an added blessing."
Lankford commended the pregnancy help group that day, stating that "what we [pregnancy centers] do every day, loving on moms and supporting families, will turn the hearts of our culture."

The authors of each pro-life bill also attended the conference and stood behind the governor, as a group, as the bills were signed. 
"It was an honor for Oklahoma pregnancy center workers to participate in this historic day for our state," stated White. "Twenty-twenty-one has been the most pro-life legislative year in Oklahoma history."
Stitt took the opportunity to revisit a pledge to sign every pro-life law that made it to his desk.      
"I promised Oklahomans I would sign every piece of pro-life legislation that came across my desk and I am proud to keep that promise," the governor said in a statement. "As a father of six, it's an honor to be the most pro-life governor in the country and I will always step up to protect the lives of unborn children."
Stitt's statement includes full information on each bill and reaction from each bill's sponsors.
The nine new pro-life laws will:
Protect babies from abortion once the unborn child's heartbeat is detected.
Safeguard women and girls from dangerous chemical abortion drugs.
Require regulations on chemical abortion drugs to be processed through the State Board of Pharmacy.
Require abortionists to be board certified in obstetrics and gynecology.
Label abortion under state statutes as a procedure of "unprofessional conduct."
Restore Oklahoma's prohibition on abortion if Roe v. Wade is overturned.
Protect relinquished children by extending the time frame they can be relinquished to rescuers and directs OSDH to award grants for the newborn to be placed into a "Baby Box;"
Require birthing centers and other medical facilities to keep a written policy to better honor the remains of a child who was stillborn or miscarried.
Prohibit fetal trafficking.
Dannenfelser remarked that the day was historic.
"Governor Stitt has kept his promise to sign every piece of pro-life legislation that reaches his desk," she said in a statement. "He is at the forefront of nationwide momentum to challenge the status quo and modernize our extreme abortion laws." 

Stitt was among 12 pro-life governors to recently submit an amicus brief supporting Mississippi in the Dobbs v. Jackson Women's Health Organization abortion case.
He remarked how this year, thanks to pro-life members of the legislature, "Oklahoma was one of the first in the nation to pass and enact legislation to stop the Biden administration from allowing abortion drugs to mail in Oklahoma."
"We are so close to this common goal to protect life and to declare that all innocent life has an equal right to life and certainly Oklahoma wants to lead in that," he said.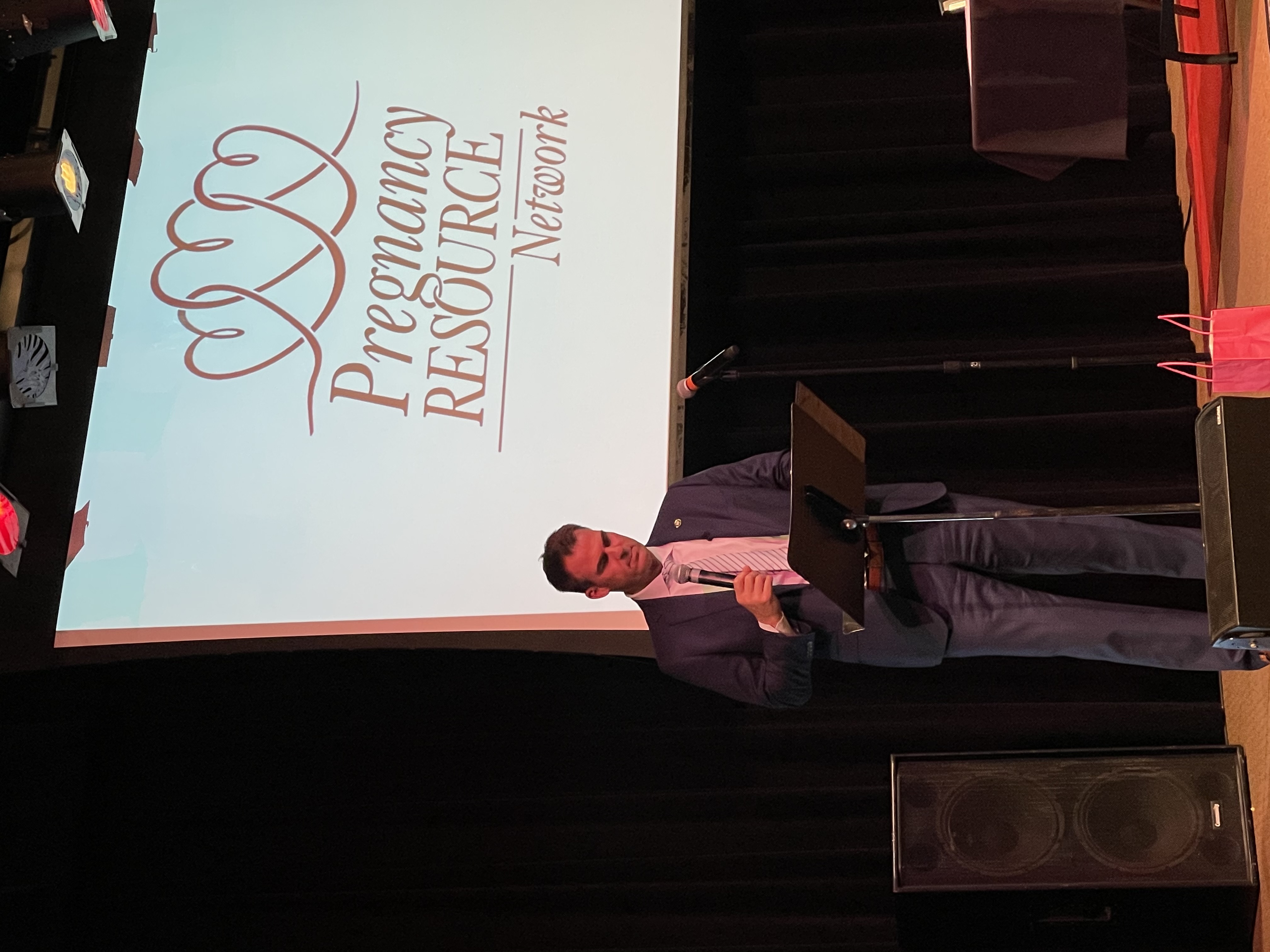 "You're making a huge, huge difference," Stitt told the pregnancy help group. "That's really where it's about."
Tweet This: "You're making a huge, huge difference," OK Gov. Kevin Stitt told the state's Pregnancy Resource Network. "That's really where it's about."
He stressed the importance of churches, non-profits and the pregnancy help community "walking beside our neighbors in Oklahoma." 
"That's where real change happens," said Stitt. "Thank you for being involved. I just get excited when I see this room of people and how involved and active you are in understanding these issues. Please stay engaged."
White wasn't alone in expressing excitement at being part of the celebratory signing of the laws.
Kimberla Treat, Director of Charis Pregnancy Center in Duncan told Pregnancy Help News, "It was such a surprise and humble experience to get to be a part of history in our state! What an honor to be present in the room that day."
Butterfield Foundation, which provides funding to organizations with medical missions, sponsored the PRN conference. The group's Vice President Dierdre McCool said, "Being at the signing felt as if I was partaking in a miracle!" 
"It was such a historic moment for our state," she said. "Being present in the same room with Governor Stitt, several Oklahoma legislators and a plethora of individuals who battle daily for life was a humbling, yet inspiring, experience."
Editor's note: Heartbeat International manages the Abortion Pill Rescue® Network (APRN) and Pregnancy Help News.