Until June 2013, Croatia's population of over four million people had no pregnancy center holding out hope and practical support in the face of desperate pregnancy situations. Then Anita Jovanovic and her husband Nikola, along with two women from their church, opened Choose Life Croatia in Zagreb, home to one-fifth of Croatia's people.
Jovanovic, a preschool teacher, said she had not planned to do such groundbreaking work when she first collided with the truth about abortion.
"I didn't know about the issue of abortion," she said. "Here, in evangelical churches, no one talks about it. I never heard any pastor or preacher talk about it, or that this was part of the gospel of the church."
But then she attended "Daughters of the King," a Christian women's conference in Sarajevo designed to encourage Balkan women to seek God's will and step out in faith to obey Him. There, amid presentations on many opportunities for ministry, she first learned the truth about abortion.
During the decade before winning independence from Yugoslavia, her country's abortion numbers had peaked at more than 50,000 per year.
"The former Yugoslavia nations—Macedonia, Serbia, Bosnia and Herzegovina, Slovenia, Croatia, Montenegro—were second in the world after the Soviet Union for the numbers of abortions per capita," Jovanovic said. "When I saw that almost every family was impacted by abortion, I knew we desperately needed healing."
Tweet This: "When I saw that almost every family was impacted by #abortion, I knew we desperately needed healing." @kinglewrites
That need drove Jovanovic to tears. But what could she do about it? "It was terribly confusing for me because I didn't understand how you could connect it to the church," Jovanovic said. "For the next two years I was praying and asking God to explain to me about abortion, preborn babies, and when life begins. It was a journey just between me and God."
After those two years of prayer, Jovanovic and her husband knew it was time to act on God's calling. Two women, including Ivana Galić who still serves with them, stepped forward to help them found the ministry. Both women had once experienced teen pregnancy and were now eager to help others find the hope they had received in desperate circumstances.
Together, these pioneers launched Choose Life Croatia.
Challenges in the Culture and the Church
From its inception, the pregnancy center faced obstacles. First, when Jovanovic's family moved from 800,000-strong Zagreb east to Daruvar, a town of only 11,000 people, the center's head office had to move, too.
"My brain told me there was no logic in that," Jovanovic said. She feared that a center in the smaller city would be ineffective and overlooked. But events soon indicated they were in the right place.
"When we came to Daruvar they changed the motto of our town to 'Love Life,'" she said. "That was the first confirmation. Regarding the second fear I had, in the four and a half years we have been here, because we are pro-life, we have had guests from almost every continent in the world."
International connections have continued growing, such as those formed at Heartbeat International's 2018 European Pregnancy Help Summit in Belgrade, Serbia in October. "There was encouragement in seeing God working in other countries," she said. "You realize you are not an alien, strange and alone, but there are a lot of people who stand up for the preborn and for life."
In addition, the Summit revealed uniquely European legalities as well as the support available from Alliance Defending Freedom. "I found out about European laws that I didn't know existed," Jovanovic said. "European law says life begins with conception, and that the preborn have rights to life."
Today, Croatia reportedly has the lowest abortion rate of all Eastern European countries. In the years since Choose Life Croatia launched, the national abortion figures fell from nearly 9,000 to roughly 6,000 abortions last year.
Yet back home she continued to battle lethargy in her culture—both in a society long accustomed to receiving rather than giving support, and in the evangelical church.
"For me personally, the most painful opposition is that the church doesn't understand this ministry," Jovanovic said. "But I can see progress. One pastor may say, 'This is good. But you should do this somewhere else; it is not part of the church.' Another pastor came and told me, 'Of course this is part of the church. We will help you.'"
Educating evangelical believers has become one of Jovanovic's top priorities, and she reaches out to them with grace. "I went through this same journey," she said. "I don't judge anyone. I realize people actually don't understand what abortion is. Because of that, they are not so passionate about it."
After one early opportunity to speak in a church, she received from the pastor an unusual coin, minted in her country at the beginning of the new millennium. It bore the image of an unborn child in utero. "This was confirmation for me, and also it was confirmation for him," Jovanovic said. "But maybe he didn't know it yet.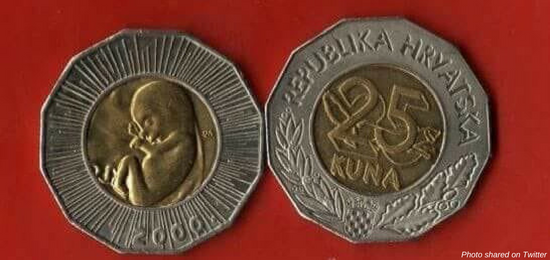 To celebrate the new millennium, the Republic of Croatia minted a coin featuring the image of a preborn child in 2000. 
---
Aiming at Multiplication
About two years after Choose Life Croatia began, the nation's Catholic church became active in pro-life work. "They have 40 Days for Life events and they have the Croatia for Life organization, which is a classical pregnancy care center, Croatian-style," Jovanovic said. "They also have March for Life. Because our land is over 90 percent Catholic, many people respond if their priest or bishop says it's good."
That is the same kind of response Jovanovic longs to see among her fellow evangelicals, as leaders in those minority churches come to embrace life-affirming ministry.
"If the Church could understand the message and just like us train themselves to be prepared for situations, then the hands of God for preborn people would be stretched to every town where there is a church," she said. "So if someone contacted Choose Life, we could refer them to the church in that region and there would be someone who would answer the call. For me, this is multiplication."
Multiplication has occurred as Jovanovic and her Catholic colleagues build on each other's efforts. While her work to educate evangelicals by translating the Randy Alcorn book Why Pro-Life? was met with lackluster response, Jovanovic was delighted to discover that the Catholic 40 Days for Life team had actively distributed copies of the book to doctors and gynecologists.
A doctor told her that in Šibenik Hospital alone, six of the eight doctors have now exercised their legal right to conscientiously object to performing abortions.
[Click here to subscribe to Pregnancy Help News!]
Seeing Progress
In spite of her uphill battle for recognition among evangelicals and an initial drop in volunteers during her center's early years when clients were rare, Jovanovic remains optimistic. "I am seeing progress," she said. To date, in 2018 alone her center served a record twelve women.
"Our desire in the beginning was to make a platform for pro-life work," she said. "Now our prayer is that God will bring people for all the work. When you are a founder, in the beginning you have to do a little bit of everything. For now, we have a platform with women in crisis pregnancies, post-abortion healing, and a maternity home, and are raising a voice in the community and in the church especially."
Doors have opened to minister to young people—more doors than Jovanovic can walk through alone. Jovanovic relies heavily on her faithful prayer warrior named Đurđica, her sister Melita who organizes events, and Sanja, a former client now serving as part-time office manager and mentor. This lean team has learned resourcefulness.
Above and below: Scenes from inside Choose Life Croatia in Daruvar | Photos Courtesy: Anita Jovanovic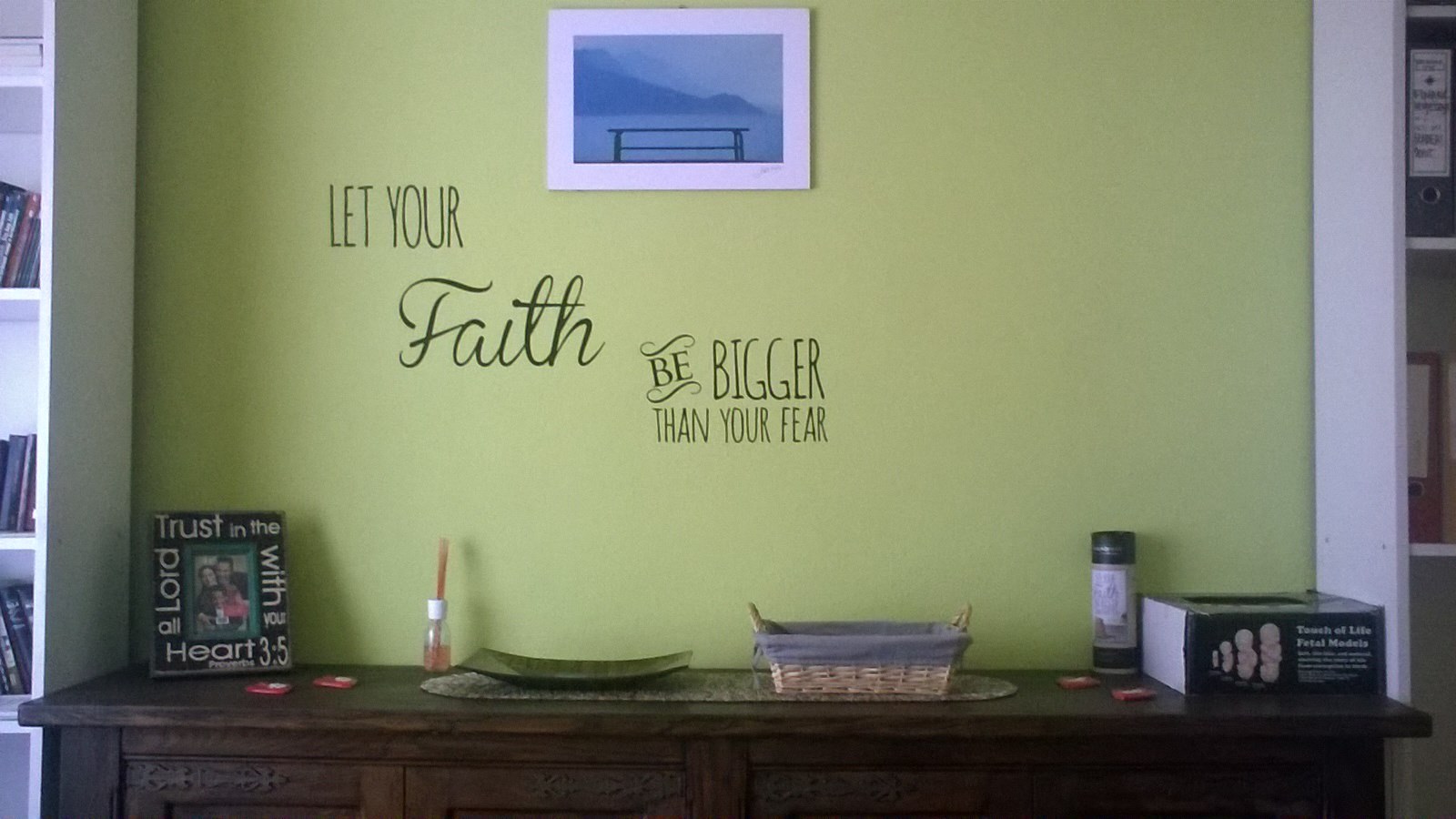 ---
For instance, without the means to establish a costly maternity home, her center rented apartments for two expectant mothers who arrived with nothing but their documents and the clothes on their backs. The women received all the material necessities to re-establish their lives, plus emotional and spiritual support.
Secondly, technology has allowed Jovanovic to reach more women than can actually travel to her center. "I'm now working through Skype with two ladies for post-abortion healing," she said. "I would like to see more clients in the office. But for now, I work more through the Internet and through the phone."
Understanding the pressures pregnant women face is not hard for Jovanovic and her husband. Already foster parenting three other children, Jovanovic learned her teaching contract would not be renewed because she was expecting a child.
Anita, her husband Nikola, and the three children they are fostering. | Photo Courtesy: Anita Jovanovic
---
Still she labors to help Choose Life Croatia grow. "I don't know the future. I have a heart to open a center in Zagreb. There are open doors now, but there are so many open doors that I don't know how to handle everything with my pregnancy," Jovanovic said.
"I am praying for new workers and to sense what is the top priority right now. The biggest priority for me personally is to work with clients that are already there and to speak in churches. There is more work, but God will bring more people."
Jovanovic hopes that her efforts to open evangelical hearts to the devastation caused by abortion will awaken a desire for nation-wide repentance and healing. "Abortion affects the baby, of course, but also the mother, father, grandparents and siblings," she said. "The Church in Croatia has had national prayer meetings and we've repented for shedding the blood of Jews, for example, or for some bad laws, or for this or that.
"'But,' I said to some pastors, 'we didn't repent for shedding the blood of our children.' This is also part of our ministry: to bring healing to the hearts of people and to really repent as a church for that. But we are blind that this is happening.
"This is my desire, for the church to be more aware of the season in which we are living, and the work for which God is obviously raising us up in His time."
Tweet This: Tweet this: One woman's powerful #prolife message to the Church in Croatia: "We didn't repent for shedding the blood of our children." @kinglewrites