A group of Houston Christian radio stations organized a largescale campaign to assist pregnancy help centers in their work serving pregnant women and families, resulting in a remarkable response of support for pregnancy help across the U.S. 
The "World's Largest Baby Shower" was presented by the Hope Media Group, which owns Houston Christian radio station KSBJ and others in the area. The group spent nearly a month promoting the donation drive culminating in late August, according to a Christian Music Broadcasters article. 
[Click here to subscribe to Pregnancy Help News!] 

Ultimately a nation-wide event, DJs with the various Houston radio stations and others across the country encouraged community residents to donate to pregnancy centers. 
Hope Media Group's audiences "exceeded expectations" the group said, with more than 55,000 diapers, 44,976 wipes, 200 cans of formula, and nearly $30,000 in gift cards donated to 40 pregnancy help centers in the United States during the campaign.
"It was awesome!" said Sandra Ontiveros, senior director of operations for the Houston Pregnancy Help Center, one of the centers that benefitted from the baby shower.
"We got donations brought to us to the very end," she told Pregnancy Help News. "I mean, on the last day people were still dropping donations off."
The month-long campaign, during the reported baby formula shortages, brought numerous Amazon gift cards, diapers, and wipes, plus formula, baby blankets, bibs, onesies, and sleepers to the Houston Pregnancy Help Center. Personal care items such as baby wash and lotion, along with furniture, playpens, cribs, car seats and strollers, were also donated, she said.
"This couldn't have happened at better time," Ontiveros said. "[The shower] took place right before school started, so for women it was kind of like, 'What do I choose? Do I choose to buy back-to-school supplies, or do I choose to buy formula?' We had what they needed at that time."
"In the summer, our donations are kind of low anyway," she added, "so it was perfect timing. It was amazing!"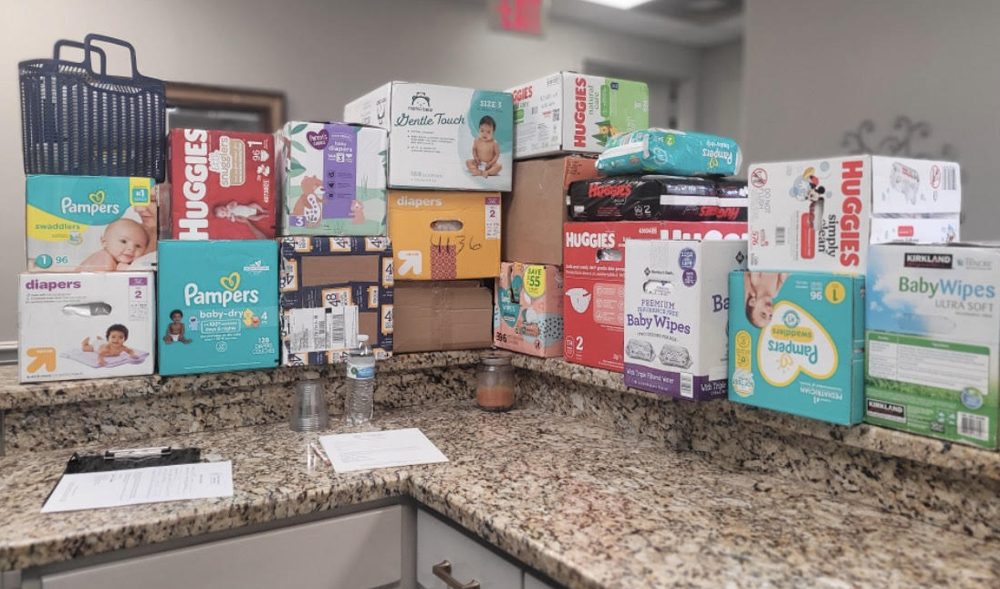 The radio group called the event a "timely and meaningful nationwide campaign" intended to provide material assistance to moms in need across the country.
"Moms in need" are three words that should never go together, the report on the group's website said.
"It is inspiring to see how many people caught the vision of this baby shower and helped it grow beyond anyone's wildest dreams," said Hope Media Group Network Promotions Director Bekah Eaker. 
"No one should feel forgotten or alone, especially new moms," Eaker said. "We're praying that every single mom that receives diapers, wipes, or formula from this drive knows how incredibly loved she is."
Tweet This: "No one should feel forgotten or alone, especially new moms"
The radio group's director of Community Relations remarked on how donors went beyond material assistance to offer moral support and expressed appreciation for pregnancy help centers in the U.S. 
"The World's Biggest Baby Shower was a beautiful portrait of God's love through caring people around the nation," Kim McKee said. "In addition to the generous gift cards and baby supplies, many donors took the time to include encouraging notes to the moms who desperately need these baby items."
"We're forever grateful for the pregnancy help centers around the nation who offer support and encouragement to families during some of their most challenging and difficult times," she said.
Commenting on the nationwide baby shower, the head of communications for the world's largest network of pregnancy help said that it was exciting to hear the words "pregnancy help centers" advertised.
"Women need compassionate care and support, and practical resources during an unexpected pregnancy," said Andrea Trudden, VP of Communications and Marketing for Heartbeat International. "Pregnancy help centers provide this compassionate support and real choice."
"Every woman deserves love and support during an unexpected pregnancy, Trudden said. "No woman should feel alone, coerced, or so hopeless that she ends her child's life through abortion."
Editor's note: Heartbeat International manages Pregnancy Help News.