The state responsible for the case that prompted the Supreme Court's decision to overturn Roe v. Wade last year is well on its way to proving that being pro-life doesn't just mean supporting life in the womb.
In April, Mississippi governor Tate Reeves signed several bills, hailed as the "new pro-life agenda," into law. These measures will help families and organizations in numerous ways.
Reeves signed three bills during a press conference: House Bill 510, House 1671, and Senate Bill 2696. These measures address foster care, pregnancy resource center donations, and adoption expenses.
According to a press release from the governor's office, House Bill 510 establishes a foster parents bill of rights, increasing transparency for foster parents, expanding communication opportunities with professionals, and enabling the Mississippi Department of Child Protection Services personnel to be more readily available for foster parents. The new law also helps ensure that educational needs of foster children will be met and provides access to available resources for parents.
House Bill 1671 expands the tax credit for pregnancy resource centers across the state from $3.5 million to $10 million, enabling greater donations to those centers.
Senate Bill 2696 creates an income tax credit for qualified adoption expenses, thereby helping more families who desire to adopt. The program covers a maximum of $10,000 worth of adoption expenses for those who adopt a Mississippi child and $5,000 worth of expenses for those who adopt children outside the state.
Earlier in the year, Reeves signed four other pro-life bills. Those include House Bill 1149, separating the Mississippi Department of Child Protection Services (CPS) from the Mississippi Department of Health Services. This allows CPS "to draw down more federal funds to support Mississippi families" and help improve the "efficiency" of the department's procedures, "including adoption cases," according to the press release.
Additionally, House Bill 1625 gives CPS the largest budget in the department's history, thereby equipping the agency "with the resources needed to effectively carry out its mission and better support Mississippi children."
House Bill 1318 authorizes safe haven baby boxes across the state. According to the press release, this new law "increases the opportunities available for parents to choose adoption" by increasing the age that children can be dropped off at these boxes. The law also authorizes such safety devices to be sponsored by emergency medical service provider and any city or county in the state.
Another bill signed by the governor is Senate Bill 2384, which establishes the Mississippi Task Force on Foster Care and Adoption. The group will study Mississippi's foster care and adoption laws and then "make recommendations for improvement to the legislature," the press release states.
"The legislation I signed today is further proof that when it comes to protecting life, Mississippi isn't just talking the talk – we're walking the walk," Reeves said during the press conference. "Mississippi will be relentless in its commitment to life. We will be relentless in our support of mothers and children. And we will be relentless in our efforts to advance the New Pro-life Agenda. Our state will continue to be a beacon on the hill, a symbol of hope for the country, and a model for the nation.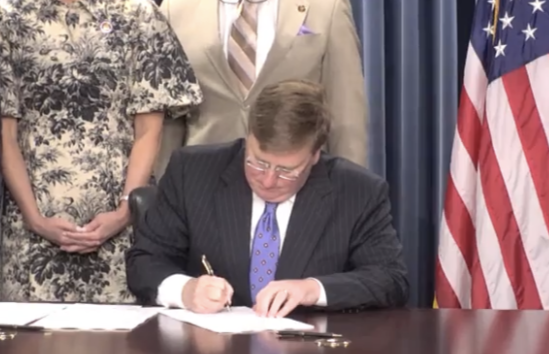 Tweet This: "When it comes to protecting life, Mississippi isn't just talking the talk – we're walking the walk" - Gov. Tate Reeves
[Click here to subscribe to Pregnancy Help News!]
Tracie Shellhouse, vice president of Ministry Services for Heartbeat International, applauded Reeves and the state legislature.
"I think Governor Reeves is doing exactly what he has said he's going to do which is to work toward building a culture of life," Shellhouse said. "I appreciate the fact that they're, as he said, 'walking the walk,' delivering on their promise to mothers and babies."
Creating a culture of life isn't just about abortion, she added.
"To build a culture of life isn't about being against abortion, it's about being for the mothers and the fathers and the children and the unborn, the greater family at large, and so these bills that they are passing very much reflect that attitude," Shellhouse said.
Heartbeat International is the largest network of pregnancy help in the world and the U.S.
In March, Reeves signed another bill that helps women postpartum, extending Medicaid coverage from 60 day to 12 months. Other states had made similar moves previously. The measure to extend Medicaid coverage for postpartum women was supported by Mississippi's two Catholic bishops, who submitted a letter to the legislature in February, saying, in part, "… the commitment to life must not end at birth. We believe that access to affordable health care is a fundamental human right, one that is necessary for the flourishing of families and communities…."
Mississippi has had the highest infant mortality rate in the United States and been among those with the highest in mortality rates for new mothers, especially for black women. The new law extending Medicaid can help alleviate the lack of healthcare among the most vulnerable, the bishops proposed.
Shellhouse agrees.
"[The measure provides] for healthier mothers and healthier families," she said. "Those mothers are caring for their children, and so it makes sense that we care for them so that they're in their best health in order to be able to provide care for those children that they've chosen life for."
The development and implementation of these new measures puts Mississippi on track to go beyond banning abortion, helping its most vulnerable citizens: the unborn, pregnant women, single moms, children, and those in foster care.
"The accusation has been made again and again that all we care about is the baby until it was born, and when you look at what pregnancy help is providing to mothers and fathers and children after birth and you look at the state of Mississippi and the legislators there that are stepping up alongside those families once that child is born to ensure that they have the best life, the fallacies that are now being permitted by the pro-abortion movement are just becoming clearer and clearer," Shellhouse said. "I think the truth is coming to light and being made known."
Editor's note: heartbeat International manages pregnancy Help News.