The pregnancy help community in Texas has persevered in serving women and families in need amid the recent winter storm and related fallout, despite formidable challenges.
Pregnancy centers have remained available to clients even, when they could not see them in person, and Heartbeat International's Option Line served clients for centers that were completely off-line due to the crippling storm.
Pregnancy help centers are in contact with clients in a number of ways through technology during normal times. But when individual centers could not provide hands-on help to clients because of the storm, Heartbeat's 24/7 contact center, which regularly supports many centers by taking calls during their off-hours, stepped up for more client contact traffic. 
Option Line saw an increase in contacts from Texas in February as compared to January, typically OL's busiest month, Nafisa Kennedy, the contact center's director, told Pregnancy Help News. 
[Click here to subscribe to Pregnancy Help News!]
A major winter storm hit large parts of the U.S., Northern Mexico and area of Canada from February 13 to 17, incapacitating communities and utility systems in Texas. Millions were without power and water for extended periods of time as the state saw some of its coldest temps in more than 30 years.
At least 80 people died across 11 states due to weather related issues, according to CNN, with at least 47 weather-related deaths reported in Texas.
The Austin American-Statesman reports that insurers are estimating the damages from the widespread power blackouts could reach $19 billion, equaling roughly the amount of insured damage caused by Hurricane Harvey in Texas in 2017.
There were pregnancy help centers that reported no damage, but temporary closure was necessary for many due to the weather alone. Some centers had slightly longer closings from power outages and damage to phone lines, and there were also altered hours at some centers due to reduced availability of volunteers and staff amid their own challenges from the storm. 
Kennedy said that some callers from Texas had asked OL consultants for more than one service referral because they had encountered pregnancy help centers being booked up after the temporary closures. The consultants then provided information for two or more pregnancy help centers to best meet clients' needs. 
There had been a significant number of calls for help with diapers and formula as well, Kennedy said, because even the grocery stores were out of stock.
Many centers have already adapted to the use of technology such as virtual visits or adding a text line, due to the coronavirus, she said, so this made some processes during the storm run more smoothly, especially with travel in Texas being risky or impossible in some places.
Also, on a bright note, she added, there were calls coming into OL offering help, perhaps an example of the sense of community in the state.
"In addition to those needing help, we have also seen at least a dozen people in Texas reach out to offer donations or volunteer their time to help pregnancy help centers in the state," Kennedy said.
"We may be down, but we are not out"
A chief challenge affecting Texas pregnancy help centers because of the was water damage. 
As indoor temperatures in buildings dropped to freezing after heat systems failed, burst pipes became an issue.
Some centers reported minimal damage from ruptured pipes, with their water and electricity restored after not much time.
However, in some cases along with the busted pipes came flooding. 
Hope Women's Center in McKinney, TX was a complete loss due to a pipe that burst and broke in half.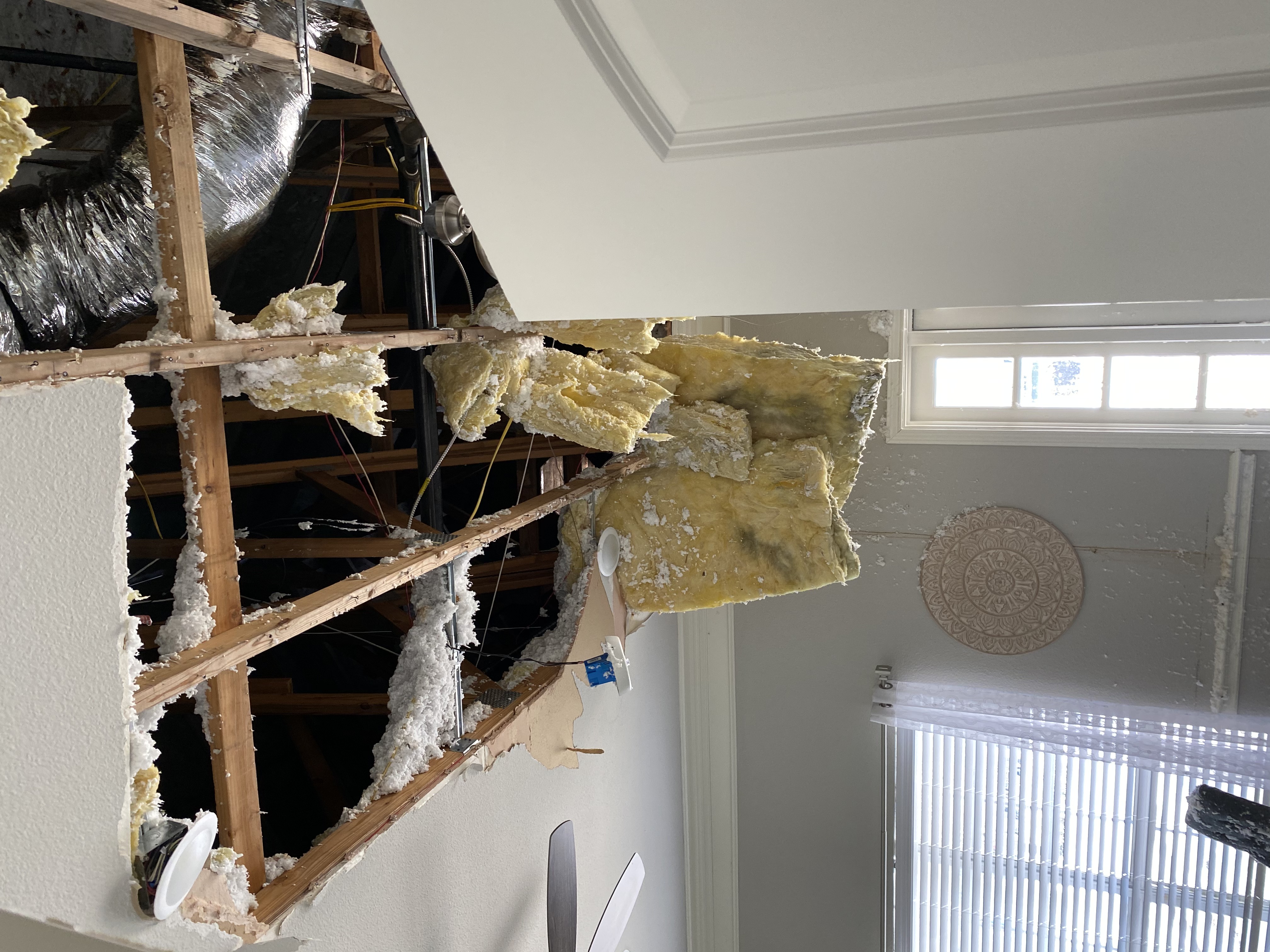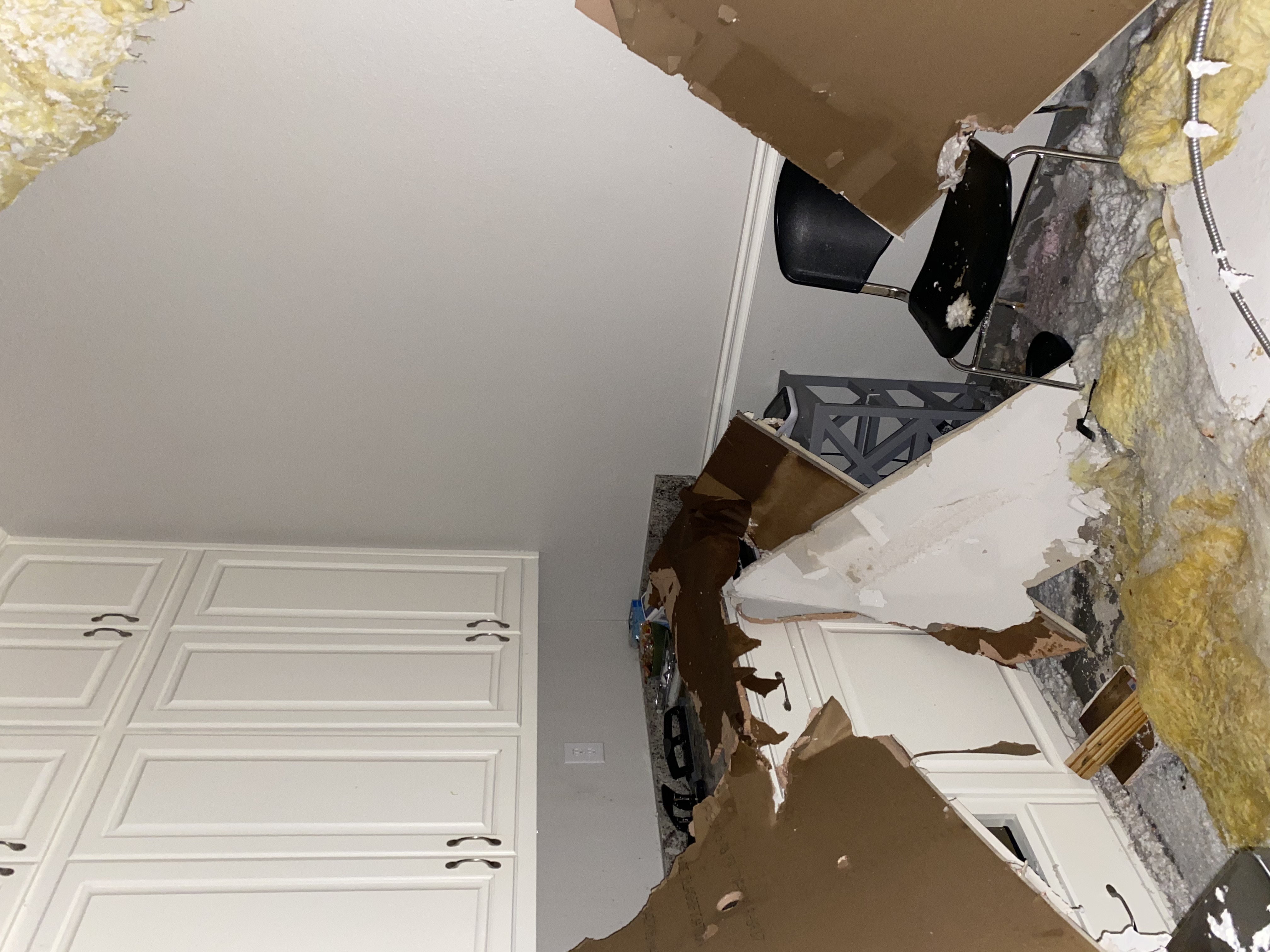 The ceilings collapsed and every room was destroyed, with a total loss of nearly 5,000 square feet of pregnancy help center space.
CEO Holly Snell said in a video message the day after finding the destruction that her heart was grieved and discouraged as she processed what she saw. 
"It's not just the beautiful things that are in this place," she said, "it's what we do that matters."
"It just reminded us, every day that we're closed is another day that lives aren't being saved here in our community," she said. "And my heart was grieved." 
But still, God was on the move even in the midst of that pain, she said.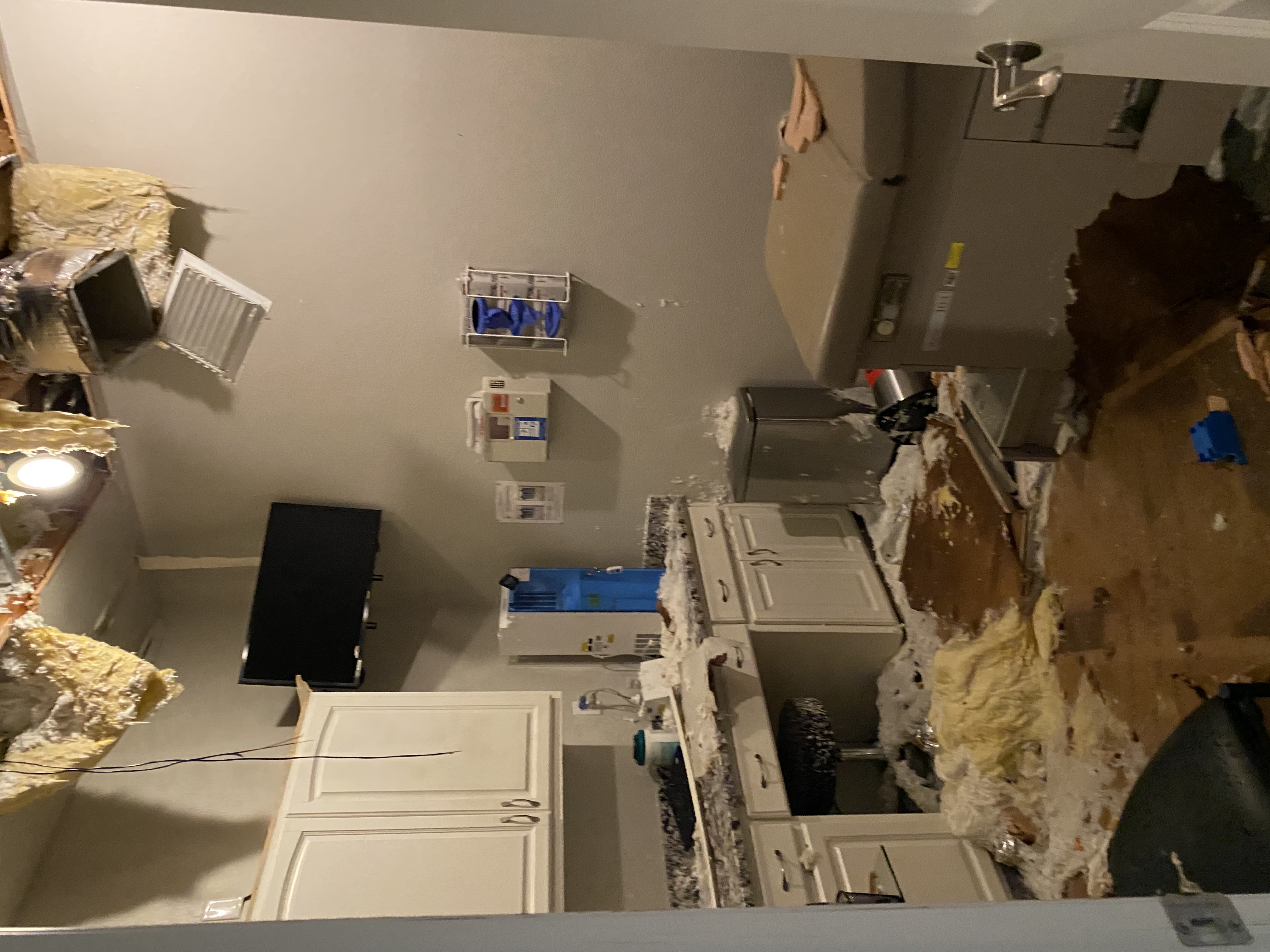 There was resolve in Snell's message, that the center will not close to serving clients, and that they were trusting in the Lord's provision.
"We may be down, but we are not out," said Snell. "God is our strength, and he will provide."
Snell reported to Pregnancy Help News that there had been an outpouring of support from several quarters, that the center remained in contact with clients, referring them to other pregnancy help centers in the meantime, and that they would be fully back up and running in April. 
Hit "extremely hard" by the weather
"Last week's weather hit us extremely hard," ChristyAnne Dickson, executive director for Pregnancy & Parenting Support Services of Galveston County reported to Heartbeat in late February. 
"Our community was without power an average of five days," she said. "Indoor temperatures hovered around 20 degrees most of that time. Plumbing in our homes and businesses are not winterized and we had had massive flooding."
Their center's only fully operational facility had broken pipes, including the main water line, she said, but the good news was that the plumbing problems were all outside the building, no internal flooding. Still, they will have to excavate in order to replace the plumbing. 
"It is a very big job," Dickson said. 

The pregnancy help organization got on to repair waiting lists with three plumbers – with, Dickson said, the shortest list having more than 18,000 requests for service ahead of them. 
"We are trying to get a disaster relief ministry we work with to leapfrog our repair position," said Dickson. "With the COVID unemployment/underemployment in our community we have been conducting weekly distributions of diaper, wipes and formula."  
She said that after the storm there were more moms in need of assistance, and this was being hindered with their center being unable to bring staff and volunteers in because of having no running water or flushing toilets.
"We were able to keep serving clients by phone and text"
The Fort Worth Pregnancy Center was hampered by five of their team of eight being out of power, water and heat in their own homes after the storm hit. The center was already reduced to the eight staff members by the coronavirus. 
"We were blessed we didn't have any damage," Jamie Bryant, Development director for the center, told Pregnancy Help News, especially because most of the staff being hamstrung dealing with their respective situations at home.
"It was really funny how disparate it was across our eight-person team," Bryant said. "Some of us were in survival mode, while others had no issues."
The three who did have power, heat and water, worked from home, fielding calls from clients and texting to provide support, and rearranging appointments – being available to clients however they could.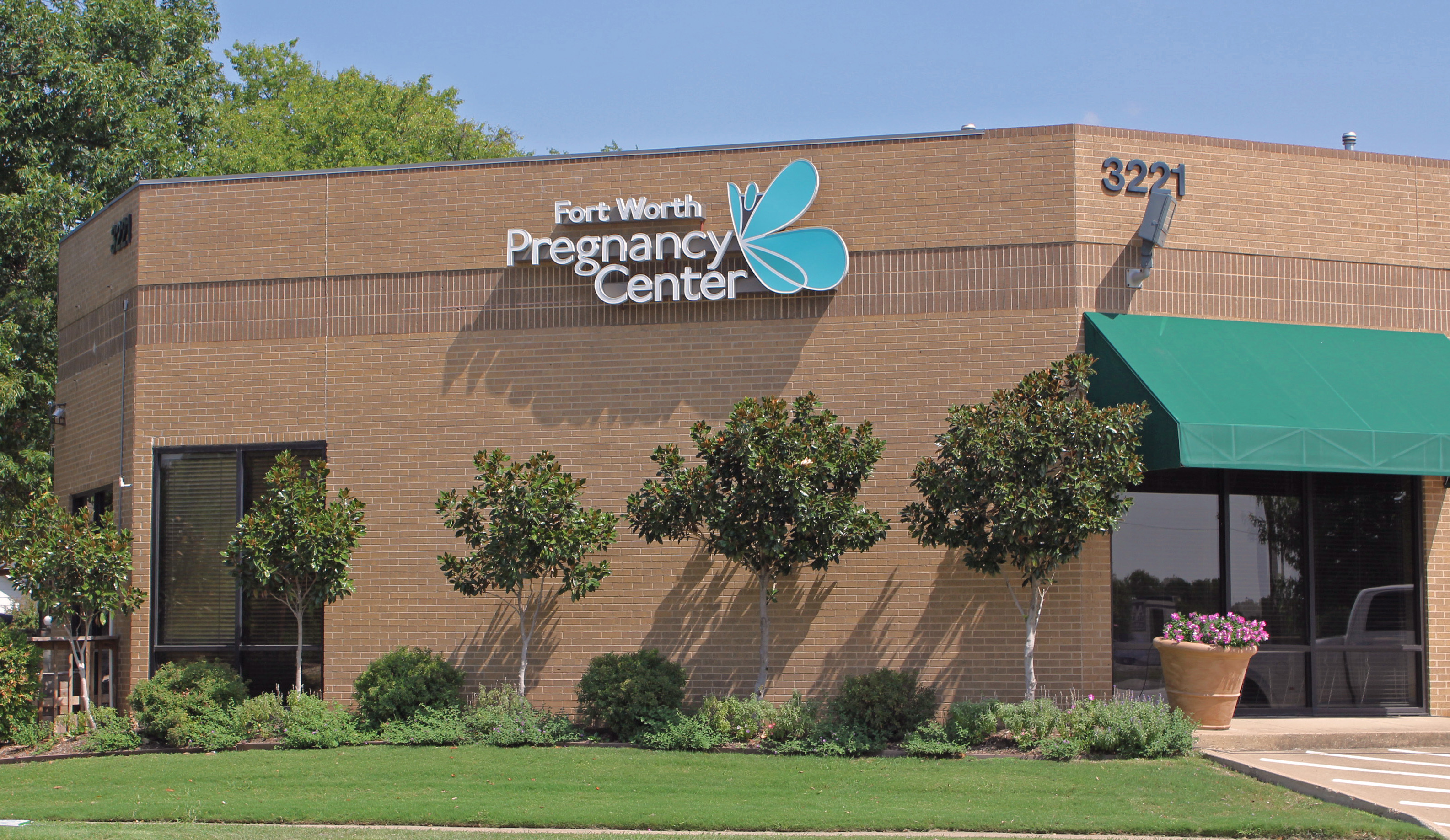 The center staff members kept seamless communication with clients through technology, including VOIP and cell phone extensions. 
"We were able to keep serving clients by phone and text," Bryant said. "Which I think was important."
Being there for the abortion-minded woman no matter what's happening with the weather was key, she said.
Tweet This: Being there for the abortion-minded woman no matter what is key
"There's a real sense of urgency in her mind," said Bryant. "It's really important for us to be able to meet her in that moment with resources."
During the storm, people were unable to travel in the area, whether center staff or clients. But that doesn't remove that sense of need felt by a woman facing unexpected pregnancy, Bryant said, and she will continue to "Google" until she finds answers.
"We want to be a part of giving her that answer and peace," said Bryant.
"Lives are saved because of the pregnancy help movement"
As challenges from the devastating winter storm in Texas have subsided for some and remain for others, from her observance at Option Line, Kennedy said that the storm has shown the resolve and commitment of the pregnancy help movement.
"These women knew they could count on the pregnancy help centers in their community for compassionate support," she said. "Option Line was able to uphold that reputation for pregnancy help centers by remaining available 24/7 to offer just that. 
Tweet This: "These women knew they could count on the pregnancy help centers in their community for compassionate support"
"We are grateful for the staff and volunteers at local pregnancy help centers who, in spite of facing personal challenges due to power outages, burst pipes, and other utility interference, made themselves available to offer support in a time of great need for their community," Kennedy continued. "Were it not for the pregnancy help movement, I fear many women who were already considering abortion would have been pushed over the edge by this time of crisis." 
"Because of the pregnancy help movement," Kennedy said. "Lives are saved every day- and by the grace of God - that doesn't stop when the storms come."
Editor's note: Heartbeat International manages Option Line and Pregnancy Help News.