Study gives emphasis to abundance of care for women and families
Pregnancy help centers in the United States served scores of people in need last year, according to a new report, providing hundreds of millions of dollars in essential medical, education and support services – doing so frequently at no charge. The extensive study of approximately 2,700 pregnancy centers nationwide released today by the Charlotte Lozier Institute (CLI) shows the centers served almost two million people in 2019, at an estimated total value of services and material assistance of nearly $270 million.
CLI gives an in-depth look at the far-reaching impact of U.S. pregnancy help centers in its report, from the early medical care begun in pregnancy centers 35 years ago, to the centers' high standards of care, estimates of the total value of the assistance centers provided in 2019 and individual stories of those helped by the centers' services.
[Click here to subscribe to Pregnancy Help News!]
CLI's study also features developing areas of pregnancy help, including outreach to victims of human trafficking and the life-saving abortion pill reversal protocol. 
The newest report from CLI, the research arm of Susan B. Anthony List (SBA List), is titled, "Pregnancy Centers Stand the Test of Time," and is the second in CLI's series, "A Legacy of Life and Love." It is based on national survey data provided by major pregnancy center networks Care Net, Heartbeat International, and the National Institute of Family and Life Advocates (NIFLA), along with many smaller networks.
In 2019 U.S. pregnancy centers provided almost 732,000 pregnancy tests, more than 486,000 free ultrasounds and 160, 000 STI/STD tests, according to the study. 
These services - usually delivered gratis by the centers - provided vital support to women and families facing unplanned pregnancy and other challenges.
"Pregnancy centers exist to serve and support mothers in the courageous decision to give their children life, even under the most difficult circumstances," said Chuck Donovan, president of the Charlotte Lozier Institute. "This report calculates the impact of their mission of love in concrete terms."
Tweet This: "Pregnancy centers exist to serve and support mothers in the courageous decision to give their children life" - CLI's Chuck Donovan
"Thousands of centers around the country provide a multitude of free services for millions of women, as well as tens of thousands of men, saving communities millions in tax dollars annually," Donovan said. "Eight in 10 people involved at pregnancy centers are volunteers, an extraordinary example of igniting points of light in the darkness." 
More than 291,000 clients attended parenting and prenatal education programs in 2019, CLI's study found, more than 21,000 clients received after-abortion support and more than 881,000 students attended sexual risk avoidance education presentations.
Pregnancy centers also gave out nearly 1.3 million packs of diapers and more than two million baby outfits.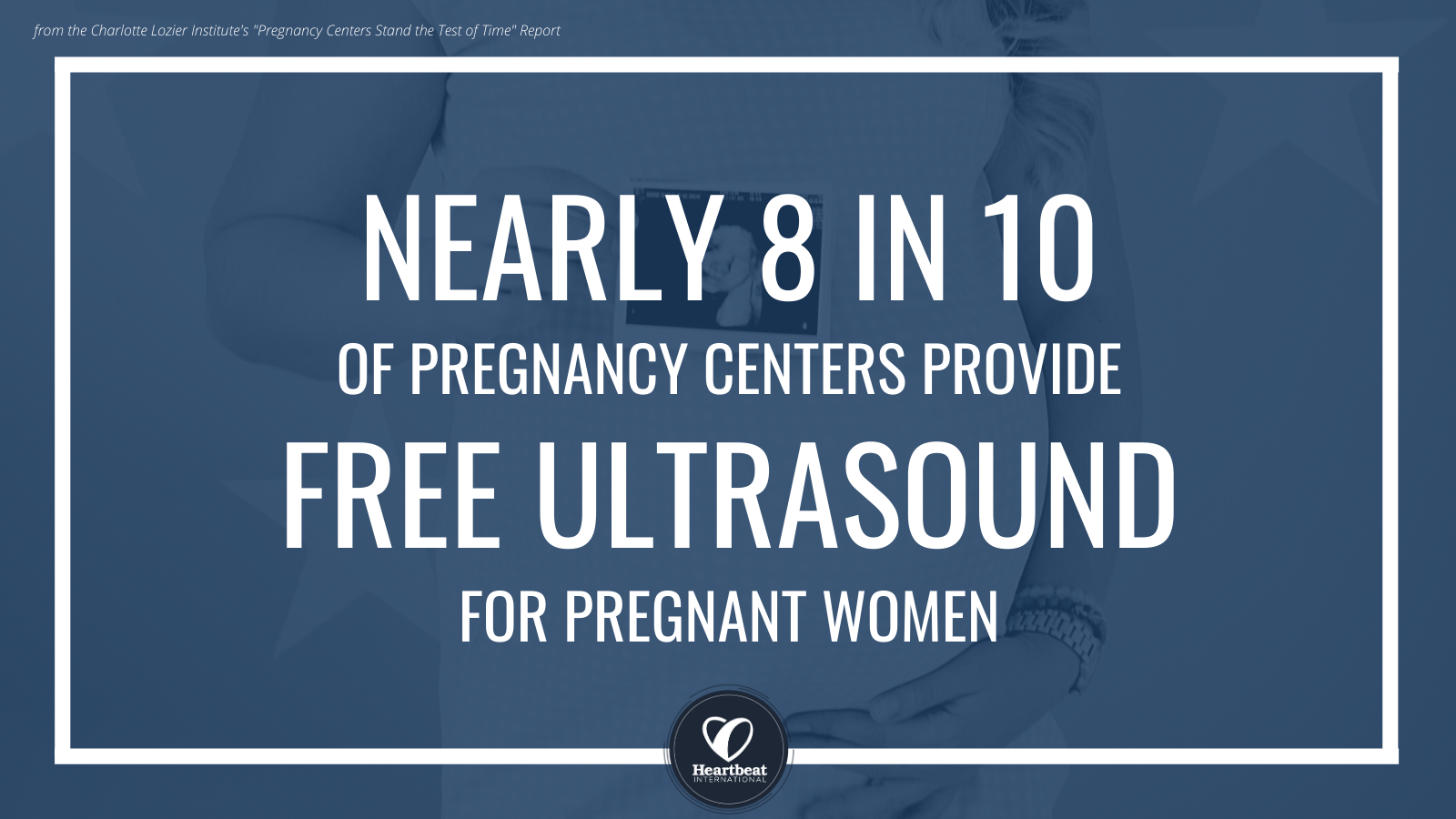 Pregnancy help centers have continually taken on a medical designation to best meet the needs of women and families with services such as ultrasound, the latest numbers reflected in CLI's report.
More than 68,00 workers serve pregnancy centers, the study said, including nearly 3,800 licensed medical staff, which comprise 25% of the centers' paid staff.
Eight in 10 of these workers (53,855) are volunteers, with more than 6,400 of them, or 12% of all volunteers, licensed medical volunteers. 
"Thirty-five years have now passed since the introduction of life-revealing and life-changing ultrasounds into pregnancy centers, and their medicalization continues to grow and thrive," said Donavan. "All Americans benefit from these resources in communities everywhere across our national landscape."
An overwhelming majority of pregnancy centers provide numerous tangible services and support to clients, with 94% offering material items, 86% offering parenting/prenatal education, 79% offering ultrasound and 72% offering after-abortion recovery. 
Additionally, a growing percentage of centers offer sexual risk avoidance presentations to youth (36%), STI/STD testing (30%), STI/STD treatment (21%), childbirth classes (27%) and breastfeeding consultations (19%).
Heartbeat International President Jor-El Godsey welcomed CLI's findings on pregnancy centers in the United States.
"A comprehensive big-picture look at the service performed by pregnancy centers is just amazing," Godsey said. "These pregnancy help centers work every day to empower moms and families to choose life, made possible because of dedicated staff and volunteers, and generous backers. The significance of offering this hope for life nearly 2 million individual times each year cannot be overstated."
Tweet This: "The significance of offering this hope for life nearly 2 million individual times each year cannot be overstated" Heartbeat's Jor-El Godsey
The number of chemical abortions in the U.S. continues to rise, the CLI report notes, and conversely, abortion pill reversal, increasing in prevalence through pregnancy centers, offers a second chance for life. 
"The life-saving intervention of abortion pill reversal is a fast-advancing medical phenomenon at pregnancy centers," the report states. "It provides women who regret starting the chemical abortion process a real hope of stopping it."
Tweet This: "The life-saving intervention of abortion pill reversal is a fast-advancing medical phenomenon at pregnancy centers" - CLI report
While the prevalence of chemical abortion continues to increase, the report notes that, "the medical phenomenon of abortion pill reversal (APR), however, continued to flourish in 2018 and 2019 as a life-saving intervention. As of the end of 2019, over 1,000 infant lives have been saved by the protocol."
Heartbeat International's Abortion Pill Rescue Network (APRN) continues to experience growth and CLI's report points out that Heartbeat continually seeks qualified consultants to receive APR inquiries, as well as recruit more physicians, physician assistants and nurse practitioners into the APRN provider network. 
"The fact that over 1,000 children have been born following an initiated chemical abortion and APR since (the APRN's founding in) 2012 shows that women favor this life-saving option," the report states. "Pregnancy centers are educating their clients about APR on an ongoing basis."
Godsey responded, "God bless everyone who is answering the call to serve these women and make a difference in their lives." 
Previous analysis from CLI shows that an overwhelming majority of Americans, whether they identify themselves as "pro-life" or "pro-choice," regard pregnancy centers as a valuable community resource, according to SBA List's research group, and "post-visit surveys indicate centers have extraordinarily high rates of client satisfaction."
SBA List President Marjorie Dannenfelser concurred with praise for U.S. pregnancy centers. 
"A final thought offered in humility," she said. "As excellent and comprehensive as this report is, one can only begin to imagine the "breadth, length, depth, and height" of the legacy of our country's families who have collectively said "yes" to a child, two children, three children, a hundred or millions of children – thanks to their experiences at life-affirming pregnancy centers." 
See the full report HERE.
Editor's note: Heartbeat International manages the Abortion Pill Rescue Network and Pregnancy Help News. For more information on Abortion Pill Rescue® visit the Abortion Pill Rescue website.