There are a number of things wrong with a graph circulating on social media showing that abortions declined more during Democrat rather than Republican administrations since the Reagan years.
Facebook flagged a post with the graphic in September and the Poynter Institute's PolitiFact tagged the graph as possibly misleading – neither source known for pro-life bias.
But people are using the graphic to promote the idea that pro-life advocates can go ahead and vote for a Democrat Party presidential candidate because abortions might actually go down as a result.
[Click here to subscribe to Pregnancy Help News!]
It is instructive to see what the Democrat Party Platform states concerning abortion. It reads, "Democrats oppose and will fight to overturn federal and state laws that create barriers to reproductive health and rights. We will repeal the Hyde Amendment…."
Pro-life laws are saving lives
Federal and state laws that create barriers to abortion (not "reproductive health and rights") have saved thousands of lives. Repealing the Hyde Amendment (which saves taxpayers from paying for abortion) would cost thousands of lives.
In a July 27, 2020, article for the National Review titled, "The Hyde Amendment Is Life-Saving and Worth Saving," Professor of social research and political science Michael J. New reported, "A 2010 analysis by the pro-abortion Center for Reproductive Rights found that Hyde had prevented 1 million abortions."
New also reported that his own research for the Charlotte Lozier Institute ("Hyde @ 40 Analyzing the Impact of the Hyde Amendment," On Point, September 2016) found that since 1976 Hyde has saved over 2.4 million lives, and prevents the death of around 60,000 babies each year.
Democrat presidential candidate Joe Biden supports doing away with Hyde, opening the way for more babies to be aborted.
Electing pro-life legislators saves lives
The argument for voting for a Democrat president put forth with the misleading graphic is that abortions decreased during the Clinton and Obama presidencies more than they did during recent Republican presidencies. This leaves out the fact that abortion restrictions during these presidencies came from the state level, not from the presidents.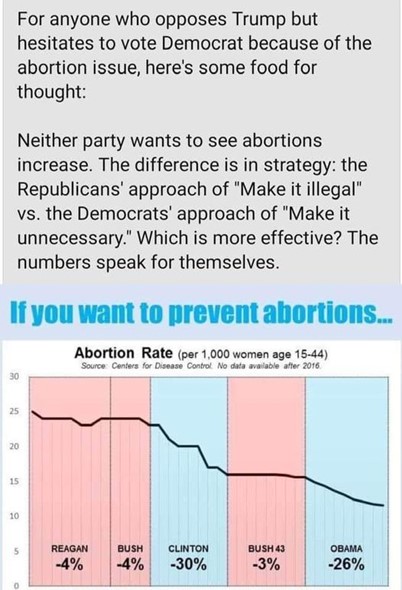 During the Clinton and Obama tenures Republicans won many state legislative seats. 
New also reported in a September 24, 2020, article published in Live Action News, titled "No, Democratic presidents do not cause large declines in the abortion rate," that "between 1992 and 2020 the number of states where Republicans controlled both chambers of the state legislature has increased from seven to 29."
Electing a Democrat president did not make the abortion rate go down – electing pro-life Republican state and federal legislators did.
The Democrat Platform calls for interfering with pro-life compassionate care
The Democrats' Platform states, "We condemn acts of violence, harassment, and intimidation of reproductive health providers, patients, and staff."
Abortionists commit acts of violence on hundreds of thousands of women and unborn babies each year. The Democrat Platform's idea of condemning "harassment and intimidation" would be to silence anyone who disagrees with them and close down Pregnancy Care Centers (PCCs) that offer something better than abortion to women.
Growth in number of pregnancy care centers saves lives
The graph relating Democrat presidential terms to decreasing abortion numbers does not take into account the growth in the number of PCCs over the years.
In the September 2020 article quoted above New concluded, "pro-lifers should not be fooled by these internet memes [Charts or graphs that show abortions declining under Presidents Clinton and Obama]. An important reason why the U. S. abortion rate has declined during both Republican and Democratic presidential administrations is because of the tireless work of pro-lifers. Our educational, service, and legislative efforts are paying dividends. A higher percentage of Americans identify as 'pro-life.' According to Heartbeat International, the number of organizations devoted to assisting pregnant women has increased by 86 percent between 1988 and 2015."
On October 21, 2020, the Charlotte Lozier Institute (CLI) published its 2019 findings on services provided by more than 2,700 PCCs in the United States.
The CLI document, which does not mention who was president at the time, reviews some history of the increased number of PCCs and services that took place during the Clinton and Obama presidencies - that had nothing to do with who occupied the White House.
The report states that NIFLA [National Institute for Family and Live Advocates] brought about "the successful conversion of pregnancy centers to medical clinics via the provision of ultrasound technology during the late 1990s, has now guided over 1,300 pregnancy centers through medical clinic compliance and conversion. Since commencing its Institute in Limited Obstetric Ultrasound in 1998, NIFLA has trained over 4,500 pregnancy center healthcare professionals and administrators in the legal and medical 'how to's' of limited obstetric ultrasound. Since 2015, Heartbeat International (HBI) has similarly provided training to 672 medical professionals…."
Decreasing abortion numbers had more to do with the increase in use of ultrasound technology that informs women about their pregnancies than with who was in the White House.
This combined with caring service, generous sharing of free baby items, thoughtful education and continued support of mothers and babies has saved tens of thousands of lives.
The Democrats' Party platform makes it clear that their candidates will try to undo lifesaving laws and thwart the work of PCCs across the United States.
Tweet This: The Democrat platform makes it clear their candidates will try to undo lifesaving laws & thwart the work of pregnancy centers across the US.
The deceptive graphic also neglects to mention this across the board support and promotion of abortion by Democrats.
Whether working with a Republican or Democrat majority in Congress, it's clear Biden will push for more abortion access and funding.
His backing for repealing the life-saving Hyde Amendment is not the end of his commitment to promoting abortion.
Biden - who has been endorsed by Planned Parenthood and endorsed by NARAL - has called abortion an essential healthcare service, and pledged to codify a right to abortion into federal law should the 1973 Roe v. Wade decision be overturned by the Supreme Court.
He has also chosen a committed pro-abortion running mate in Sen. Kamala Harris, whom pro-life supporters, considering her record as California Attorney General and U.S. Senator, have called "extreme" in her abortion stance.
Hence, a vote for the Biden-Harris ticket would not decrease death by abortion, but instead, based on their stances and that of their party, pave the way to increase it. 
Pro-life voters must assess the candidates' positions and records on life at all levels of government and vote accordingly.