As Heartbeat International closed its 2022 Annual Pregnancy Help Conference the final award for the event was presented, tying into the Conference theme of Onward, which honors the pregnancy help movement's first 50 years while looking ahead to the future.
The Heart of the Future award honors a new generation of pro-life leaders, underscoring how great things can be accomplished by a passionate person of any age.
This year's recipient was Sarah Dove. Dove founded Arms of Grace Pregnancy Resource Center in Burlington, N.C., scheduled to open this spring with the help of Heartbeat's Life Launch Grant.
[Click here to subscribe to Pregnancy Help News!]
The Grant supports new pregnancy help center start-ups, specifically in under-served communities.
Sara Littlefield, Life Launch Grant Program Specialist for Heartbeat International, said that Dove is a source of inspiration and hope.
"Sarah is determined and has dedicated her life to supporting women experiencing unexpected pregnancies, empowering them with true choice and hope for the future," Littlefield said. "To witness her families, friends, and greater community rally around her heart for life-affirming pregnancy help is inspiring!"
Tweet This: "Sarah is determined and has dedicated her life to supporting women experiencing unexpected pregnancies"

Dove has lived experienced with pregnancy help and abortion, and this, along with a calling from God "to do something" to support women and families, drives her involvement in and commitment to pregnancy help.
She began by volunteering at a pregnancy resource center. This led to her to learn about abortion recovery programs, which fostered her own healing and propelled her further into pregnancy help. 
She has assisted with the local Walk for Life, spoken in churches, and performed sidewalk advocacy. 
It was while she was doing sidewalk advocacy that she was approached by someone who said that a pregnancy center should be opened in North Carolina's Alamance County where she lived. Dove concurred, saying she would volunteer if one should open. 
The individual suggested that she do it, and she felt like God was talking to her. She'd already been encouraged by a family member to do so five years earlier.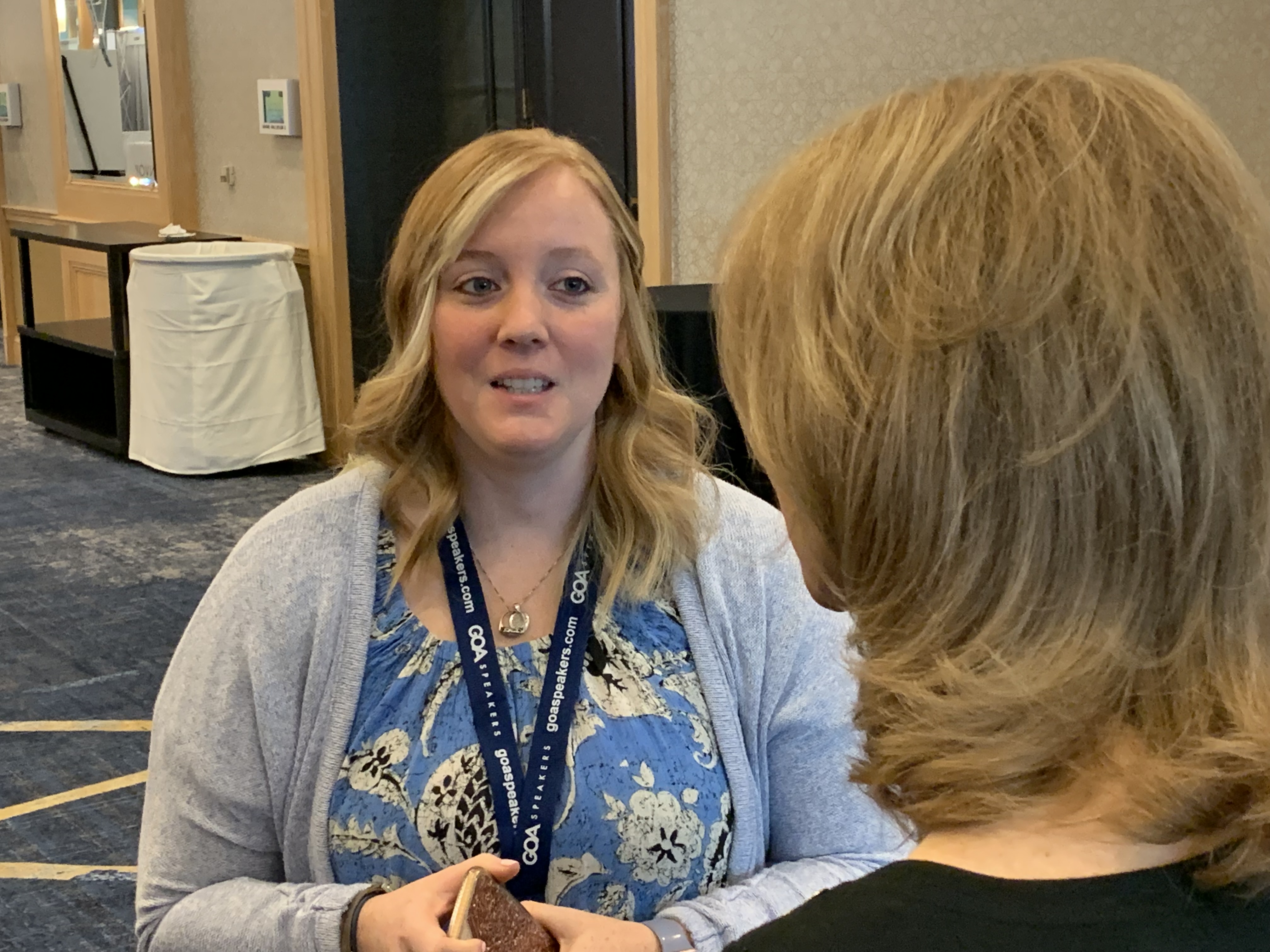 Heartbeat Vice President of Ministry Services Betty McDowell presented the Heart of the Future Award to Dove at the closing banquet for the Heartbeat Conference.
The honoree does not know they are the recipient until it is announced from the stage.
McDowell told the crowd gathered that the award is bestowed upon a younger, next-generation leader. 
"A leader who is learner," she said, "a leader who represents the next generation of leaders, to represent the next generation of leaders." 
Dove's is an incredible story, McDowell said, "A story of healing, a story of redemption."
"It's a terrific, God story," McDowell said.
She told the Conference that Arms of Grace Pregnancy Resource Center was set to open a few weeks after the Conference, something McDowell said was fitting as the pregnancy help movement is moving onward to the future.
The Annual Pregnancy Help Conference ran from Mar. 30-Apr. 1.