"What are those people doing out there?" Eileen asked, "Don't they know how awesome you guys are?" Eileen, a transfer student, was a new client visiting our center for STD testing. Eileen had just been given a choice: a cupcake or an angry lecture about "choice."
Over 41,000 students return to the Oakland Campus communities in Pittsburgh early each Fall to live and learn at the two largest universities in Pittsburgh. The "Arrival Survival" week is the perfect opportunity to welcome students and advertise services offered at Women's Choice Network. Our team goes to work to recruit volunteers who bake and distribute over 1,000 cupcakes to students along with all kinds of swag that new students love. 
The Great Cupcake Give-Away lasts one full week in August and targets the incoming freshman classes. Cupcakes are literally swallowed up by swarms of eager students. Appointments for STD and pregnancy testing quickly follow. Young women and men find answers and little ones are rescued from death.
But this year's Great Cupcake Give-Away faced a small distraction. A local group of protesters chose the same week to "canvas" students in front of Women's Choice Network's campus location. The activists, who have visited our centers on other occasions, are armed with printed flyers and homemade signs that come right from the exposefakeclinics.com playbook. This small but determined group of demonstrators represents a growing political presence in Pittsburgh, the Socialist Democrats of America, and is (sadly) best described as arrogant, ignorant, and angry.
So what happens when an incoming freshman is faced with a choice between a homemade cupcake and a political flyer? Most, like Eileen, choose the cupcake. And inside our walls, they find the services they need, caring medical professionals, and a "home away from home" acceptance. 
We know that God's timing is always perfect. Our distractors may have sought to disrupt and dissuade. But instead their message was "swallowed up" by the truth. Cupcakes won the day!
Tweet This: Cupcakes and Kindness: How This Pittsburgh Pregnancy Center Countered Angry Protestors with Baked Goods #prolife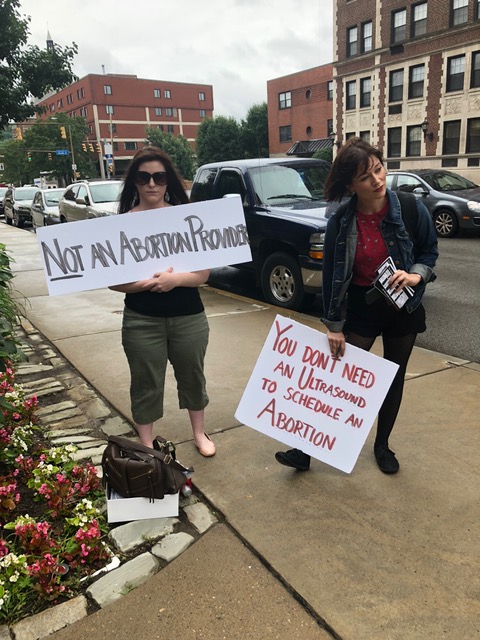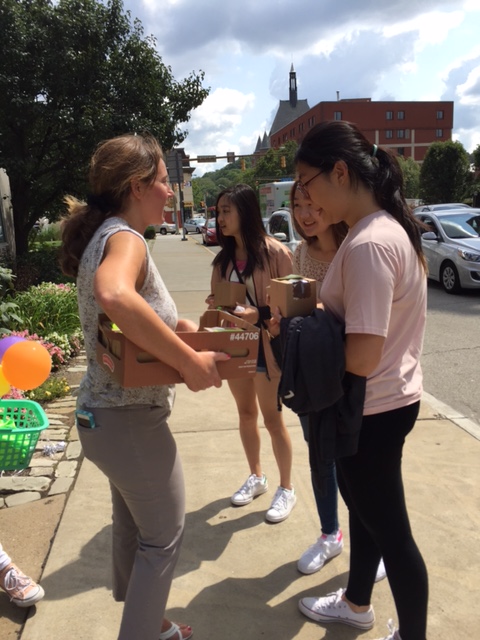 While protestors canvassed, students flocked to the kind pregnancy center staff and volunteers providing cupcakes and information on their services. | Photo Courtesy: Amy Scheuring
About the Author
Amy Scheuring has been involved in pregnancy ministry for over 30 years. This lifelong calling began in 1985 when Amy and a small team of friends established what is now Women's Choice Network in Pittsburgh, Pennsylvania. This network of four medical clinics reaches into some of Pittsburgh's neediest neighborhoods and has documented well over 6,000 lives that were spared from abortion.  
Amy is a blogger and speaker. Her passion for sharing the good news about God's plan for marriage has motivated several training projects and books. She is the author and creator of the Chastity Challenge abstinence education materials now used in pregnancy centers across the US. Her book Sex: More Than a Plumbing Lesson was released in 2003 and she recently published a children's book on marriage titled, Colton and the Big White Cake. She holds a Master's Degree in Education from the University of Pittsburgh. Amy and husband Tom love to hike and bike and have recently become complete bird nerds. They live near Pittsburgh and have two grown children. 
[Click here to subscribe to Pregnancy Help News!]