Editor's note: Language warning 

Update: Live Action has additional reporting on the latest in pro-abortion violence and vandalism HERE and HERE.
(Live Action) A pro-abortion terrorist group has issued a communique instructing its followers to carry "anger out into the world" by "expressing it physically" on the night the Supreme Court releases the opinion in the Dobbs v. Jackson Women's Health Organization case, which, due to a leaked draft opinion, is expected to overturn Roe v. Wade this month. The "Night of Rage" message, allegedly from Jane's Revenge, was downloaded by an anarchist website on May 31.
Tweet This: Pro-abortion group calls for followers to carry "anger out into the world" by "expressing it physically" when Dobbs decision is released
According to the communique, the overturning of Roe, "is an event that should inspire rage."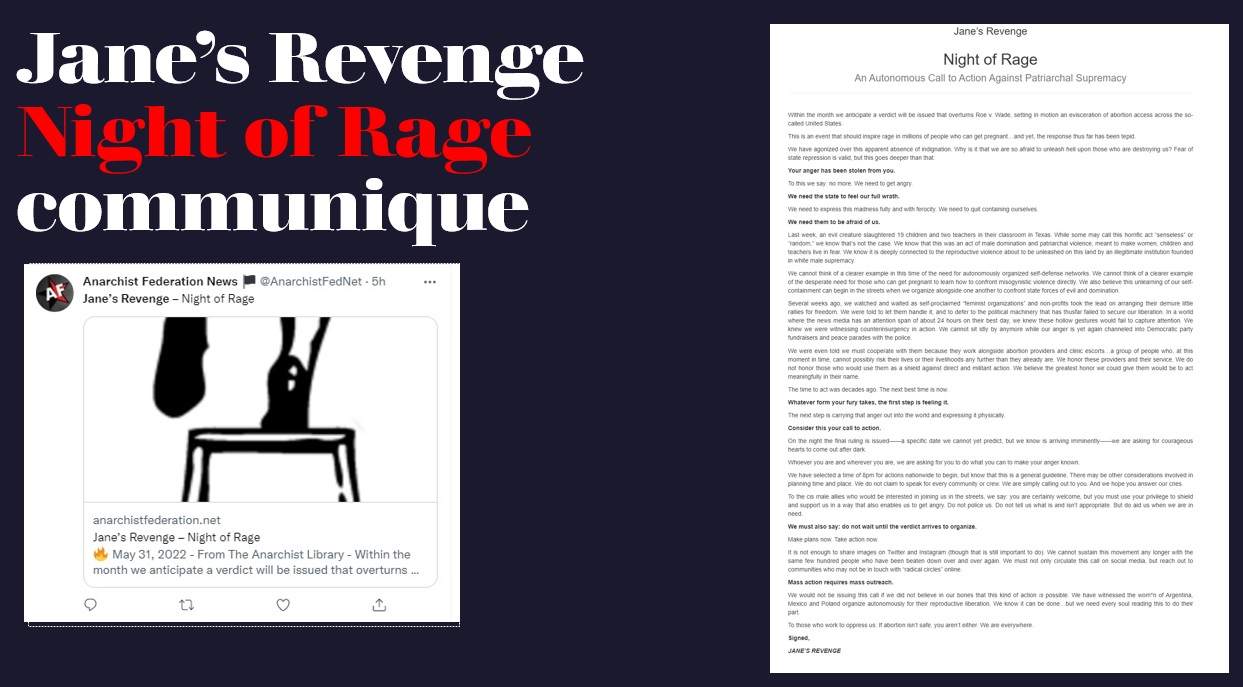 The threatening message also read in part:
Consider this your call to action.
On the night the final ruling is issued — a specific date we cannot yet predict, but we know is arriving imminently — we are asking for courageous hearts to come out after dark.
Whoever you are and wherever you are, we are asking for you to do what you can to make your anger known.
We have selected a time of 8pm for actions nationwide to begin, but know that this is a general guideline. There may be other considerations involved in planning time and place. We do not claim to speak for every community or crew. We are simply calling out to you. And we hope you answer our cries.
To the cis male allies who would be interested in joining us in the streets, we say: you are certainly welcome, but you must use your privilege to shield and support us in a way that also enables us to get angry. Do not police us. Do not tell us what is and isn't appropriate. But do aid us when we are in need.
The message then tells followers not to "wait until the verdict arrives" but to "Take action now."
Deadline June 10: Threatens violence against pro-life groups
Jane's Revenge's first communique, published by Robert Evans on May 10, vowed to "adopt increasingly extreme tactics to maintain freedom over our own bodies" while demanding the "disbanding of all anti-choice establishments, fake clinics, and violent anti-choice groups within the next thirty days." That alleged deadline will expire on June 10. The group, which already claimed responsibility for a May 8 act of terrorism against the Wisconsin Family Action office in which an arsonist threw Molotov cocktails into the facility, claims that if its demands are not met, it will be "forced to adopt the minimum military requirement for a political struggle."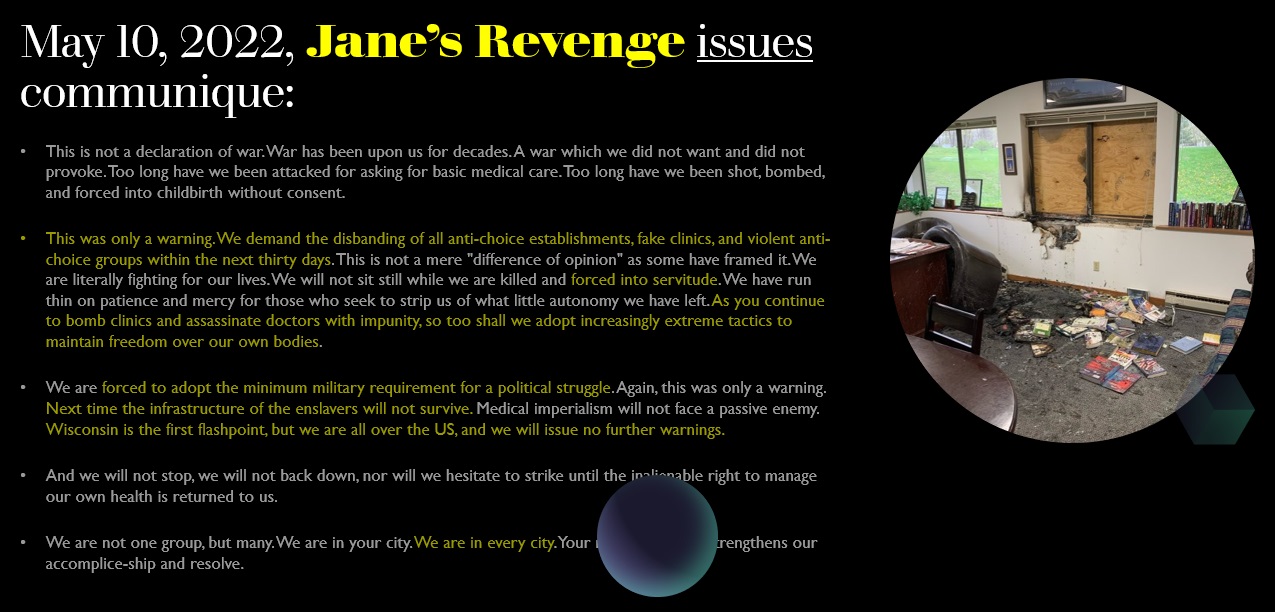 Following the first threat, "Jane's Revenge" was tagged by the group or copycats in various states. Multiple supporters of the anonymous group have parroted the threats, with some posting a daily countdown to the June 10 deadline on Twitter. In Olympia, Washington, an alleged domestic terrorist "cell" of Jane's Revenge has risen up to take responsibility for defacing four churches associated with pro-life pregnancy centers.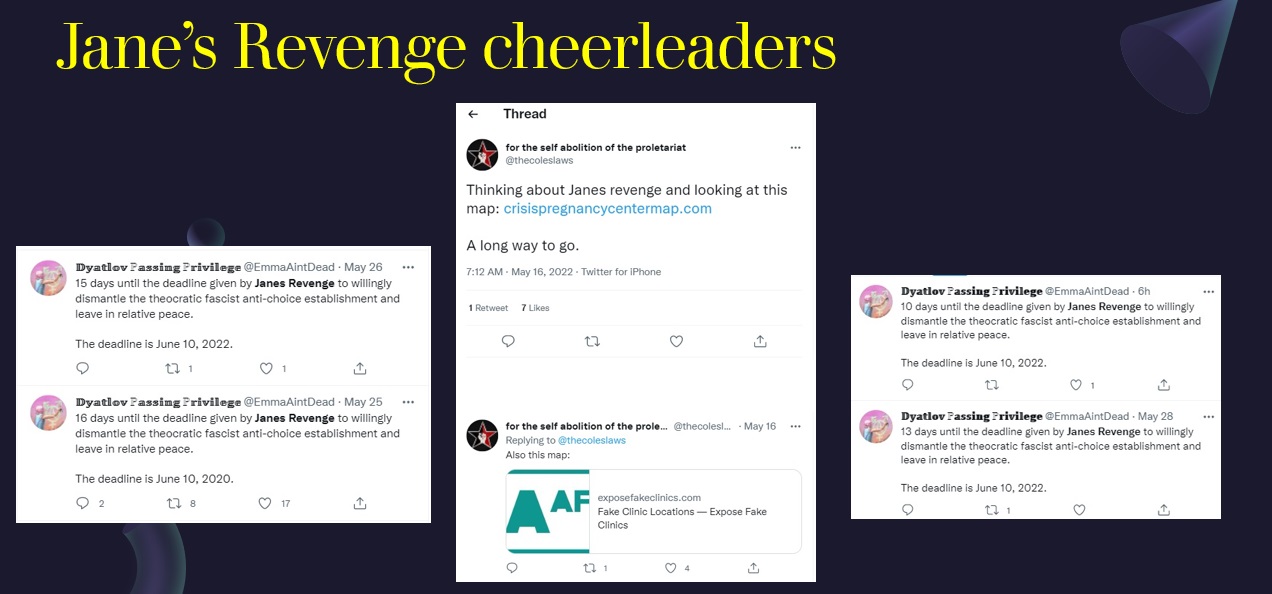 Then, on June 3rd the Capital Hill Crisis Pregnancy Center in D.C. was vandalized with words "Jane says revenge" spray pained on the building.
[Click here to subscribe to Pregnancy Help News!]
Anarchist groups
In addition to postings associated with Jane's Revenge published on anarchist websites, a common theme dominant in many acts of vandalism is the anarchist symbol tagged on multiple Christian and pro-life facilities.
The twitter handle @GraffitiRadical published graffiti images – one on May 7 published a tweet that read "F*** SCOTUS forever" with the anarchist A symbol. Images of graffiti in Los Angeles, Calif., which read "F the Supreme Court", "We are done voting", "Dems are Complicit" with the anarchist A were posted  May 13.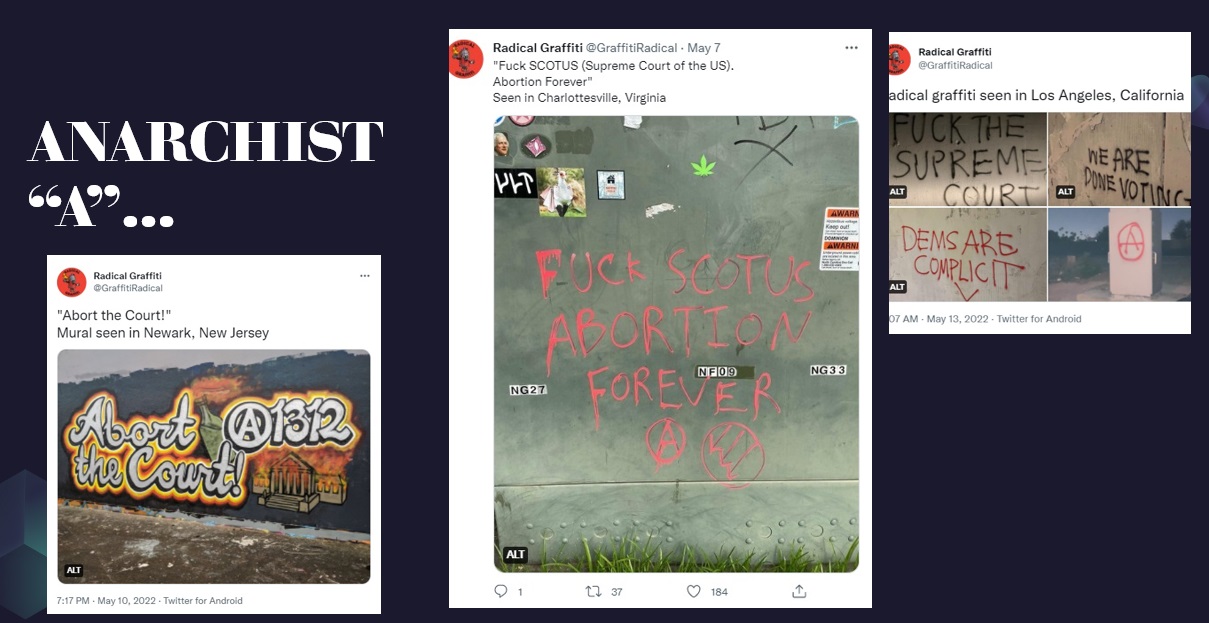 The images from Washington, Los Angeles, Oregon, and Colorado also include the encircled Anarchist "A" can be seen below.  While one post to a pro-choice Reddit thread reads, "Can't wait to burn down a church and worship Satan for abortion rights," a separate thread in response contained the following comment: "As a punk anarchist I want to join in on the satanism and burning down churches."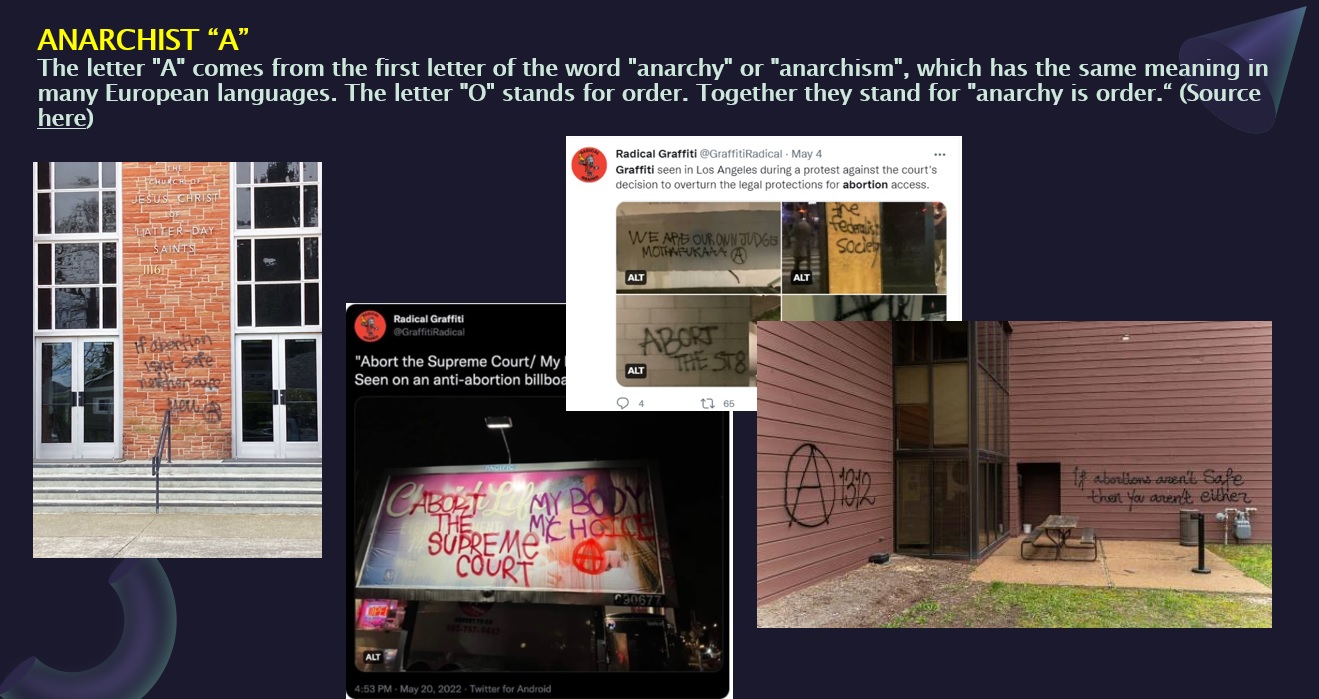 In addition, as Live Action News previously documented, another anarchist website has floated the suggestion that "acts of revenge against all fathers and the patriarchy" should be carried out for Father's Day. Others online are posting eerie videos that appear to suggest violence.
On June 3, @itsnotfeminice tweeted a seven-day countdown video showing flames being thrown and included the hashtag #JanesRevenge. The seven-day warning coincides with the original Jane's Revenge threat calling on pro-life groups to disband by June 10.
Clock is ticking.. #RoeVWade #ERANow #7days #janesrevenge pic.twitter.com/PmA6XNpT9F

— J (@itsnotfeminice) June 3, 2022
On May 10, this same person, whose page name is "J," tweeted "you've got your warning" and included an image from Jane's Revenge's first communique. A May 20 tweet by @ItsNotFeminice contained a video message stating, "You've got your warning from Jane's Revenge. There are 20 days left Tick-Tock. We will not be stopped. We will not be silenced. Our bodily autonomy is not up for debate. Its our turn to be in the constitution #ERANow." Another tweet contains the hashtag #IamJanesRevenge.
Tweet This: Pro-life advocates await arrests and denunciation from abortion providers/lobbyists as abortion violence and threats escalate
In addition, a pinned video message published by @Itsnotfeminice on Twitter shows handmaidens running from an exploding building. The imagery is ominous considering the recent firebombing attack which Jane's Revenge took credit for. The message uses the exact words from the first Jane's Revenge communique: "We are in your city. We are in every city," which was tweeted with the hashtags '#IAmJane,' '#JanesRevenge,' and '#Roevwade.'
Similar imagery can be seen in a May 27 video tweeted by the same person.
? #IAmJane #Janesrevenge #Roevwade pic.twitter.com/xROEwFLOvE

— J (@itsnotfeminice) May 11, 2022
As violence and threats continue to escalate, Live Action News is unaware of any mainstream pro-abortion groups like Planned Parenthood, NARAL Pro-Choice America, Emily's List, or others that have publicly condemned any threats or acts of violence to date. In addition, Live Action News is also unaware of any arrests made in connection with these terroristic threats.
Editor's note: This article was published by Live Action News and is reprinted with permission. Live Action will update its article with new information as it becomes available.