A North Carolina pregnancy hep center got a surprise visit from Lara Trump Tuesday, giving the ministry a refreshing boost in its life-affirming work. 
Trump visited the HELP Pregnancy Center in Monroe, NC, toured the center, visiting with a client and her baby, learning more about the work performed by pregnancy help centers, and praying with the center's staff and volunteers. 
Trump's visit gave the center a chance to celebrate its work, but also further educate the president's daughter-in-law and others, and the center personnel are grateful for the out-of-the blue affirmation of their ministry. 
"It was a great day," Executive Director and founder Tara Quinn told Pregnancy Help News.
[Click here to subscribe to Pregnancy Help News!]
Trump loved the baby models at the pregnancy help medical clinic, Quinn said, as well as the ultrasound room, and she learned all about the center's mobile ultrasound unit, which is available to serve women six days a week outside the local abortion facility.
She also met a client, Tessa, and her baby. Tessa was able to share with Trump how the impact the center has had in her life, helping her during her pregnancy and since, with material items, pregnancy and parenting classes. 
Trump connected easily with Tessa, Quinn said, Trump herself the mother of young children. Tessa shared how she enjoyed the center's Bible study.
Quinn said Trump was very personable, engaging and genuine, and showed that she really cared about the people who perform pregnancy help work and the clients they serve.
"It was just a precious time," stated Quinn.
Another ministry that collaborates with the HELP Pregnancy Center, A Cause for Tea, served refreshments, and Quinn said they had a high tea.
"It was great," she said, a board member commending her and the staff for preparing so well with little time.
The center staff and volunteers offered to pray for Trump and her family, Quinn said, and for their defense of the unborn – something they already regularly do. Quinn said Trump and her group were happy for the offer of prayer.
"We stepped into our prayer chapel," Quinn said, "and I told her, 'This is the room where we pray for you,' and you could just tell that this was to her heart."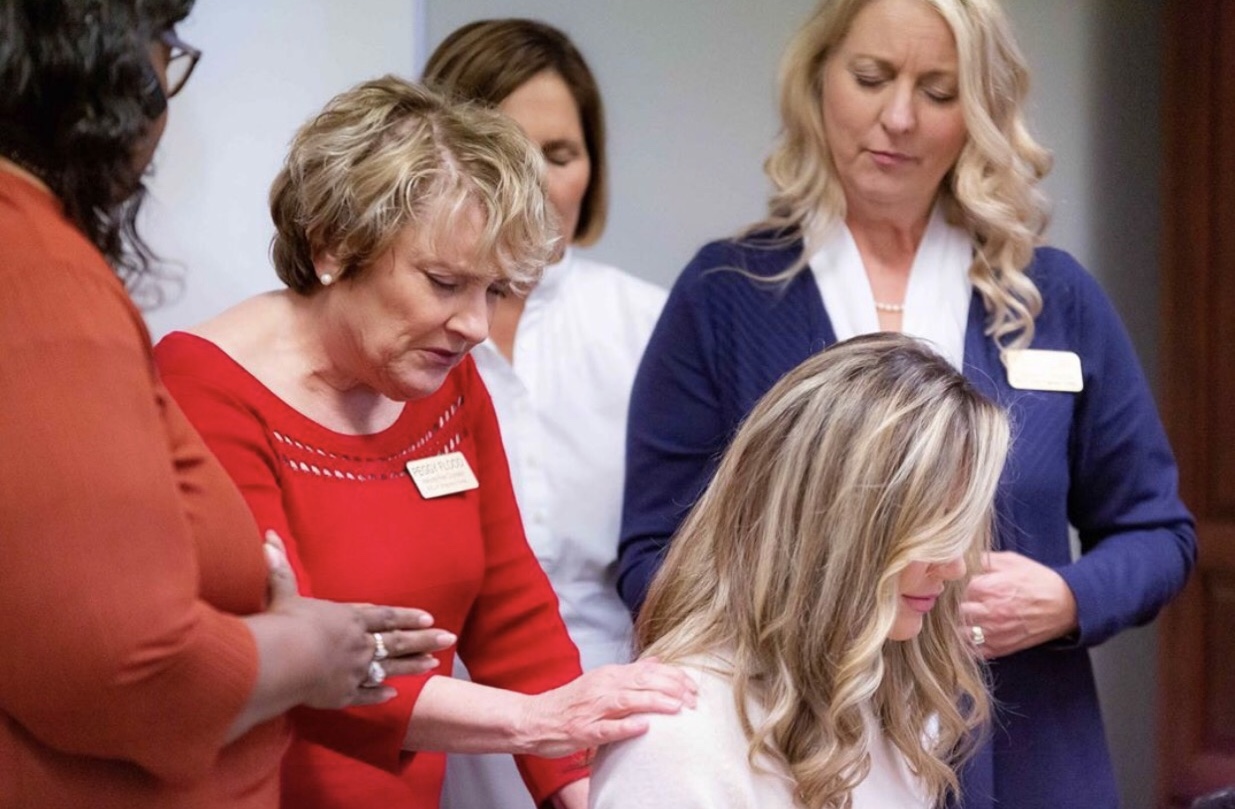 While Lara Trump is an advisor to Donald Trump's campaign, which has highlighted the president's pro-life record and her visit part of that, Quinn said the discussion during the visit was not focused on politics.
"We were just sharing our embrace of the sanctity of human life," said Quinn. "It was a breath of fresh air."
HELP Pregnancy Center offers free and confidential pregnancy, parenting, adoption and abortion education, along with free pregnancy tests, confidential peer counseling, limited ultrasounds and Bible study classes. The center also offers Abortion Pill Rescue® and mobile ultrasound services.
In 2018 the mobile unit was able to travel to meet a mom who had taken the abortion pill and experienced regret, and who was having difficulty getting to the pregnancy medical clinic, so she could start the abortion pill reversal process and save her baby.
Last year twin babies were saved through APR offered by the center, which is one of more than 900 rescue providers in the Abortion Pill Rescue Network (APRN). Statistics show that more than 1,000 lives have been saved to date through the APRN.
HELP Pregnancy Center had 24 hours' notice from the Secret Service about Lara Trump's Tuesday visit, and had to keep the news close to the chest, with extensive security checks the day before and the morning of the visit.
Taking part in the event were North Carolina State Representative Dean Arp (Rep) a longtime supporter of the ministry and whose wife Anne is a former volunteer, Katrina Pierson, an advisor to Lara Trump, and commentators Diamond and Silk. 
The center's Office Administrator Lisa concurred with Quinn that Trump seemed to have a heart for pregnancy help work. 
The center staff and volunteers were humbled and honored that they were chosen and able to share about their work, she said.
"It meant so much to have that happen," she said.
Trump seemed pleasantly surprised at the extent of the services provided by the HELP Pregnancy Center, she said.
"We explained that we don't just say, 'Don't have an abortion, have your baby, and have a nice life,'" said Lisa. "We really come alongside our clients."
"I think it gave her a pretty good understanding of what pregnancy resource centers are about," she said. "It's not just a pregnancy test and an ultrasound."
The center's Client Services Coordinator Wanda told Pregnancy Help News the visit from Trump was "awesome.'
"You talk about a whirlwind," she said. "But a good kind of whirlwind."
"It was truly from God because we've been under spiritual warfare," said Wanda. 
The center has been getting nasty phone calls from abortion supporters, she said.
"We are doing the right thing," she said. "And Satan – he's worried."
Tweet This: "We are doing the right thing, and Satan – he's worried" - pregnancy help center worker
Wanda held hands with Pierson, prayed with her and heard her personal pro-life testimony.
"They were very down to earth," she recalled. "You could tell they had a love for Christ, and they're everyday people like us."
Center staff shared how they help women no matter how they feel about their pregnancy.
"I think that makes us stand out," said Wanda. "We continue a relationship with these women."
She was grateful as well for the visit from Trump and her companions.
"All the darkness we've had," reflected Wanda. "God sent us a ray of sunshine yesterday."
Editor's note: Heartbeat International manages Pregnancy Help News and the Abortion Pill Rescue Network.