Within the pages of the recently released Life Trends 2020 report, we learn that more than 50 percent of abortions are now chemical, using the drugs mifepristone and misoprostol. Sadly, women are led to believe this is a 'quick fix' to an unplanned pregnancy, and they rarely understand the potential medical risks and side effects, as outlined by the Mayo Clinic, or the possible emotional effects, including guilt, depression, and anxiety.
As pregnancy center workers, we would prefer to see women not go through with an abortion at all. However, if they do proceed with a chemical abortion, as Kirk Walden pointed recently in Pregnancy Help News, "…we have an answer for that."
Yes, we do – abortion pill reversal (APR) and the Abortion Pill Rescue Network® (APRN).
[Click here to subscribe to Pregnancy Help News!]
Kirk made another comment that stuck with, me: "Our challenge now is (to see) that there's not a woman out there who goes for a chemical abortion who doesn't know about reversal and abortion pill rescue."
That remark brought to mind the Casting Crowns song, "Until the Whole World Hears." The emphasis for that popular contemporary Christian song is the Gospel, which we at pregnancy help organizations offer to our clients. I believe the song title also underscores Kirk's statement; pregnancy centers can spread the word about APR "until the whole world hears."
Sharing APR
How do we as pregnancy centers let our clients and potential clients know about APR and the APRN? 
Some offer flyers and pamphlets with Heartbeat International's APRN hotline phone number (877.558.0333) and/or the AbortionPillReversal.com web address. Volunteer sidewalk counselors who pray in front of or near abortion clinics give out brochures on APR. Often women search the internet for help and find Heartbeat International's APRN. For True Care Women's Resource Center, where I work as Patient Resources Director, we give out a brochure on APR, and last fall, we partnered with the Knights of Columbus and an amazing donor to erect a billboard along the interstate.
Because of the conservative atmosphere of Wyoming, there are limited options for women to obtain abortions in the state; therefore, most women travel out of state, including for chemical abortions. Many drive to Colorado where there are several abortion providers. Interstate 25 connects central Wyoming to Colorado. 
As a staff, we brainstormed how we might reach those women returning from their abortion appointment. The idea of a billboard popped into our heads.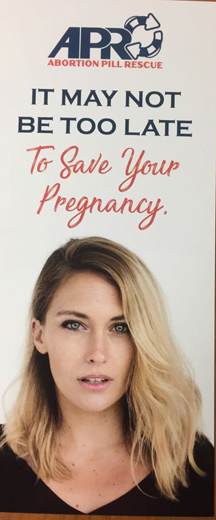 Our center president, Terry Winship, contacted area billboard companies; each declined to take the project. However, thanks to a True Care supporter who owns land along the interstate, to the Knights of Columbus organizations in two counties, and to other men's groups who provided labor, the sign designed last year was installed this spring. 
Then, only as God can work, two more True Care supporters stepped forward just recently, one of whom owns a digital billboard on the west edge of Casper. Within a short time, images designed for True Care last year appeared on this display along another highway that traverses the community. Some drivers may see both signs as they travel north toward Casper and then west, away from town.
Thanks to visionary, supportive people, women from central Wyoming will learn they may have another choice after taking the first abortion pill.
Increase in APR providers and success stories
The number of centers that offer APR continues to grow, and many amazing stories come from those organizations – and clients themselves.   
For example, staff at the Resource Center in Greeley, Colorado, began the APR progesterone protocol on a woman during Sanctity of Human Life Sunday. Women's New Life Clinic in Louisiana experienced five successful reversals last year amid the pandemic. Numerous clients from around the country have praised the APR process, including a woman who called in to a radio station and shared her story.
According to the Life Trends 2020 report, nearly 1,000 medical professionals around the country are part of Heartbeat International's Abortion Pill Rescue Network®, helping women who regret taking the abortion pill possibly save their pregnancy. The APR protocol of using progesterone has been shown to work about 65 percent of the time and is believed to have saved more than 2,000 unborn lives during the past 15 years of use.
Spread the good news!
However, getting the word out is not always easy. Many pro-abortion advocates, including medical professionals, dish dirt on the procedure. Women are given misinformation and told APR is 'junk science.' Yet, how can one argue with the results, especially when mothers are sharing their success stories? As pregnancy care center workers, even if our organization doesn't offer APR, we need to let people know about this life-saving protocol.
From brochures to billboards, websites to verbal words, when we in the pregnancy help movement tell women there may be an affirmative answer to their question, 'Can I save my baby after taking the abortion pill?" and share APR information with others, we can positively impact lives forever. And we will do so … "Until the whole world hears."
Tweet This: When we in the pregnancy help movement share APR information with others we can positively impact lives forever.
Editor's note: Heartbeat International manages the Abortion Pill Rescue® Network (APRN) and Pregnancy Help News.