Another mom who chose life for her child amid unplanned pregnancy will be blessed by the life-affirming scholarship established to help moms achieve their dreams.
The Unplanned Movie Scholarship was awarded from the stage on the final day of the 2023 Heartbeat International Annual Pregnancy Help Conference. The Conference ran from April 26-28 in Louisville, Ky.
In a surprise reveal Unplanned Movie lead actress Ashley Bratcher gave a video message announcing that a young lady name Kayla, a client of Lifehouse Maternity Home in Louisville, would receive a $15,000 scholarship to benefit her education.
"I'm so excited because we have our next recipient sitting right among you, and her name is Kayla Walker," Bratcher told the crowd. "I'm so sorry that I'm not there with you, but I have heard so many wonderful things about you from Lifehouse, and you are an incredibly inspiring young woman."
Bratcher was on her way to catch a flight to Louisville the day before to present the scholarship in person when she got caught in traffic caused by a motor vehicle accident and was unable to get another flight in time. She quickly put together a message for Kayla and the Conference crowd.
"So, Kayla, hello," Bratcher said, greeting Kayla upon announcing her name. "I love your heart and the fact that you want to be able to give back to them as much as they've (Lifehouse) given to you."
[Click here to subscribe to Pregnancy Help News!]
"Your goal, to be able to work within the deaf community and help those who suffer from impaired hearing, really touched my heart," Bratcher said. "I think that there's not enough people who know American Sign Language. It's a really interesting and wonderful field to study on top of getting your degree in science."

The Unplanned Movie Scholarship is a partnership with Bratcher and Heartbeat, and Bratcher typically travels to present the scholarship award, a surprise for the moms. 
"Most of you probably know that after the movie I really wanted to have the opportunity to help other women who were in similar situations to me," Bratcher told the Conference crowd in her message. "I had my own unplanned pregnancy at a young age, and when I got in a position after Unplanned, I was able to support other women. I really wanted to figure out where to do that."
Bratcher explained how she wanted to help moms through the scholarship individually and on a broader scale, and how the need exists to raise awareness for pregnancy help.
"And so, I reached out to Heartbeat International because they have the largest network in the world," she said. "Because not only did I want to help women, but I wanted to spread awareness for the centers." 
Bratcher said she felt like many women don't know that pregnancy help centers exist. Most of the time on college campuses women will know where Planned Parenthood is, she said, but not where their local pregnancy resource center is. 
"So, not only was this an opportunity to help these women, but it was an opportunity to help bring awareness to your center," she said. "That was something that we really wanted to focus on."
Tweet This: Not only is the Unplanned Movie Scholarship an opportunity to help these women, it is an opportunity to help bring awareness to centers
Bratcher went on to say she had reviewed a lot of candidates for the scholarship over the last couple of months, and that she thinks that Kayla "is amazing." 
"We're really excited about her," Bratcher said. 

Lifehouse Executive Director Dolli Neikirk completed Kayla's scholarship application. She was also responsible for getting Kayla to the Heartbeat Conference lunch at which the scholarship award was to be made, all while preserving the surprise.
"Kayla's a very, very hard worker," Neikirk said when notified ahead of time of the scholarship award. "I'm just surprised taking it all in because I didn't know it was her." 
They had three moms at the home who were interested in being considered for the scholarship. 
"She is just a wonderful hard worker," Neikirk said. "She's a great mom to Jace, and Jace is just the most precious little thing." 
Kayla has just started classes, Neikirj explained. 
"She manages her time so well," she said. "She works as well as going to school."
Neikirk said Kayla has a little desk set up in her apartment at the home. She has class the same night of the Bible study held at the home, and rather than completely miss, Kayla attends the Bible study as long as she can before heading out to class. 
"So, she does want to make Bible study still an important part of her routine here at Lifehouse," said Neikirk. "And I'm just so tickled that you guys are excited about her as I am. She's just amazing. She just really has a wonderful heart, and I'm just excited for her."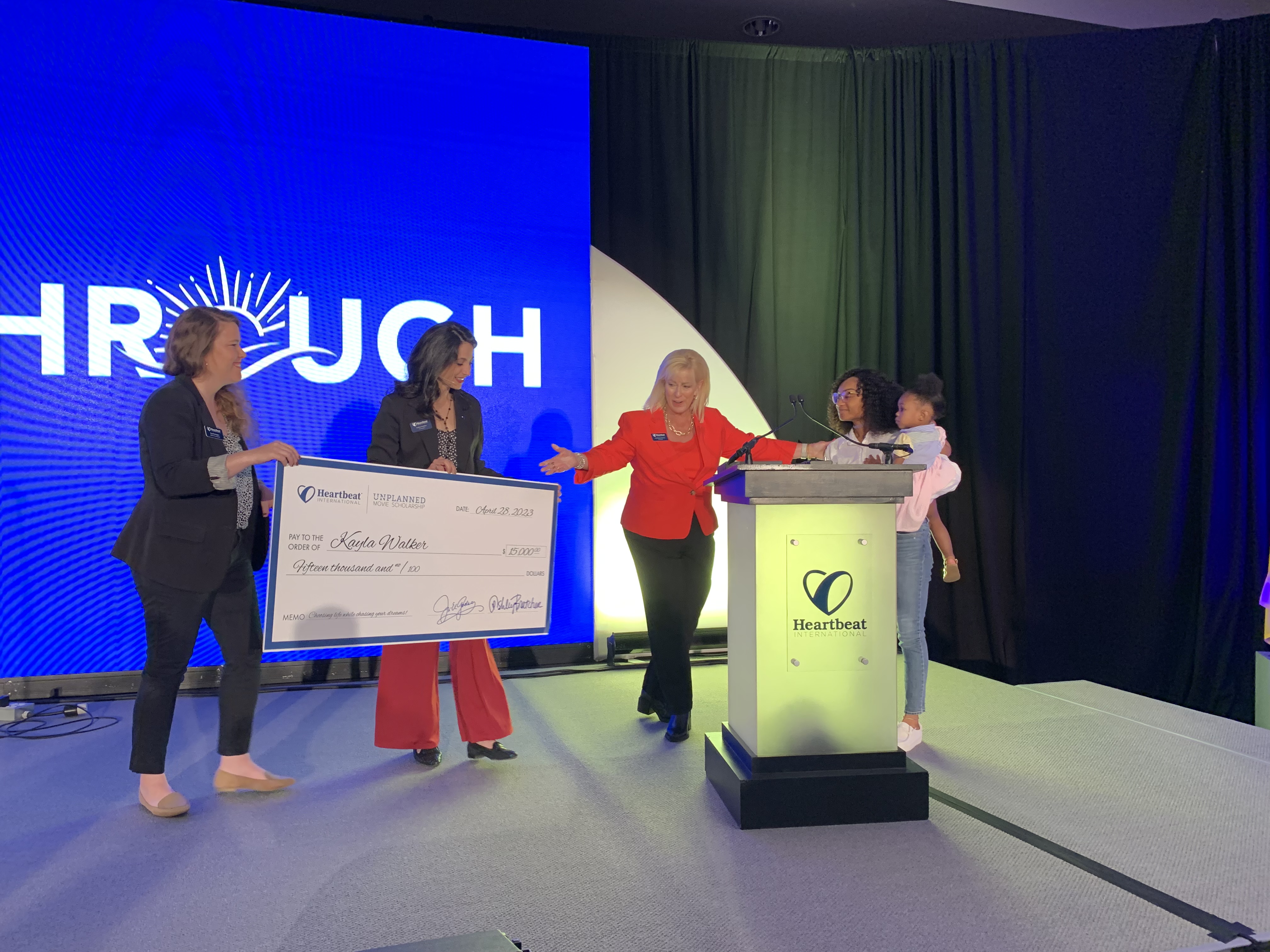 Bratcher said she was drawn to the fact that as a maternity home Lifehouse has the opportunity to continue to support the girls through college.
That's really important, Bratcher said, and she was impressed that Kayla had indicated she wanted to be able to come back and work with the center.
That's another aspect and component of the scholarship, said Bratcher. Recipients are really encouraged to go back when they are in a position to volunteer to help and encourage other girls.
"You're a really impressive woman," she told Kayla in her message. "And so, I hope that this $15,000 scholarship will help you not have to worry so much while you're in school and you can have some precious time with your little girl. And she's going to be so proud of her mama."
"So, congratulations from me and on behalf of all of Heartbeat International," said Bratcher. "We're so proud of you and we can't wait to see what you keep doing."
Editor's note: Heartbeat International manages Pregnancy Help News. This article has been updated.